No labor-saving machine,
Nor discovery have I made,
Nor will I be able to leave behind me any wealthy bequest to found
    hospital or library,
Nor reminiscence of any deed of courage for America,
Nor literary success nor intellect; nor book for the book-shelf,
But a few carols vibrating through the air I leave,
For comrades and lovers.
This poem is in the public domain.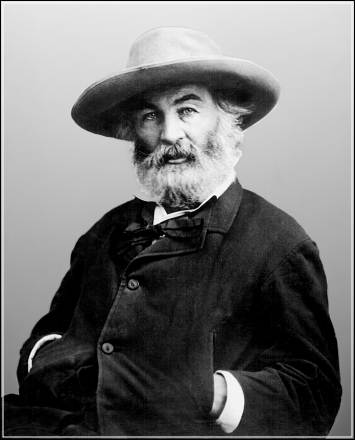 Walt Whitman (1819 - 1892) is primarily known for a collection of poems called Leaves of Grass, which he completely revised at least five times during the course of his life and which appeared in print in at least three different editions. Though his formal education ended with elementary school, Whitman was an educator at several points in his life. More often, he worked as a printer, a clerk, or a nurse; he was chronically poor, but managed to interject culture (he loved opera) and travel into his life. He achieved international acclaim during the course of his career, but probably had as many detractors as he did fans.
anne.lehman2929@att.net:
"Nor reminiscence of any deed of courage for America, Nor literary success nor intellect;" What a modest assessment of self!
Posted 06/03/2014 03:03 PM
KevinArnold:
Vibrating through the air indeed. For centuries.
Posted 06/02/2014 11:28 PM
Dianalt:
Last night a bunch of us in Atlanta met in a cafe, took turns reading and (or) listening to the entire "Song of Myself" from "Leaves of Grass"--and it was well worth it. Thanks to Walt poetry will never be the same. DA
Posted 06/01/2014 02:54 PM