Everyone suddenly burst out singing:
And I was filled with such delight
As prisoned birds must find in freedom,
Winging wildly across the white
Orchards and dark-green fields: on--on--and out of sight.
Everyone's voice was suddenly lifted;
And beauty came like the setting sun;
My heart was shaken with tears: and horror
Drifted away. . .O, but Everyone
Was a bird; and the song was wordless; the singing will never be done.
This poem is in the public domain.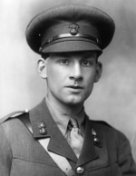 Siegfried Sassoon (1886 - 1967) was a British patriot and poet who grew increasingly jaded about the value of war and ultimately became known for his brutally satirical antiwar poetry. He is recognized as one of sixteen "Great War Poets" on a plaque in Westminster Abbey. "Everyone Sang" is his most famous poem, but in this excerpt from his memoir, Siegfried's Journey, Sassoon confesses that its creation was not in the least remarkable:
"One evening in the middle of April I had an experience which seems worth describing for those who are interested in methods of poetic production. It was a sultry spring night. I was feeling dull-minded and depressed, for no assignable reason. After sitting lethargically in the ground-floor room [at Weirleigh, his mother's home] for about three hours after dinner, I came to the conclusion that there was nothing for it but to take my useless brain to bed. On my way from the arm-chair to the door I stood by the writing-table. A few words floated into my head as though from nowhere. In those days I was always on the look-out for a lyric - I wish I could say the same for my present self - so I picked up a pencil and wrote the words on a sheet of note-paper. Without sitting down, I added a second line. It was if I were remembering rather than thinking. In this mindless manner I wrote down my poem in a few minutes. When it was finished I read it through, with no sense of elation, merely wondering how I had come to be writing a poem when feeling so stupid."
Ross Kightly:
True - when the poem arrives it finds us suddenly not stupid for a few moments...
Posted 06/09/2014 04:28 AM
ghctenmile@earthlink.net:
Thanks, Jayne, for printing the poems of the great poets of the past. This one is a treat to read as well as the recollection from Sassoon about how he came to write it. GHC
Posted 06/04/2014 08:40 PM
njc:
"....wondering how I had come to be writing a poem when feeling so stupid." Isn't this so true, that our best pieces come as a complete surprise.
Posted 06/04/2014 09:48 AM
paradea:
This poem is so moving. I absolutely love it. Thanks, Jayne.
Posted 06/04/2014 08:13 AM
KevinArnold:
Great gloss on a most remarkable and mysterious poem. Thanks.
Posted 06/03/2014 11:42 PM