Today I brought home Spring
from the Acme.
Yellow, purple, and white primroses
sing in their pots,
blaze on the pine table.
 
The daffodils from Ireland
still asleep from the long journey
stir…as green stems
sink and settle
in the blown glass vase.
 
A froth of yellow curls,
unfurls.
Slips from a tight bud.
Beginning what's to come,
                             to come.  
 
© by Kay Winters.
Used with the author's permission.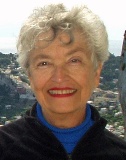 Kay Winters, before changing jobs to follow her dream and write for children, was a classroom teacher, reading specialist, and college instructor. She also worked as a language arts consultant for the American International Schools in Egypt, Nepal, India, Jordan, Greece, Israel, and Italy. Today, Kay specializes in writing picture books and chapter books for children aged 3 to 12. She has appeared on CSpan, Book TV, and PBS and her books have won numerous awards. Kay lives in Doylestown, Pennsylvania; learn more about her at www.kaywinters.com.
Anastasia:
One of our local grocery stores has daffodils for $1/bunch this weekmy house is much brighter right now!
Posted 03/04/2022 01:27 PM
Lori Levy:
Very visual. I can see the flowers!
Posted 03/01/2022 05:22 PM
CamilleBalla:
Today I brought home Spring. So many great lines. And you inspired me to bring home some Spring today. Thank you, Kay.
Posted 03/01/2022 11:01 AM
KevinArnold:
A master of line breaks.
Posted 03/01/2022 09:57 AM
Pat Brisson:
"A froth of yellow curls, unfurls" Love it! Thanks, Kay, for the cheery images.
Posted 03/01/2022 07:27 AM
Larry Schug:
Not much is more cheery than a vase f flowers in the house on the first of March.Unfortunately, in Minnesota we have to buy them at the grocery store. I can picture the primrose and daffodils "blaze on the pine table" my favorite image in this sweet little poem.
Posted 03/01/2022 07:07 AM
VodVonDetta:
There is so much wonder and love in the humble flower, unfurling like a spring breeze. The clouds part and we wear the sunlight.
Posted 03/01/2022 05:33 AM