I am a man of many parts, and for those parts Iím grateful.
The parts though, donít reciprocate. Some days, theyíre downright hateful.

My brain might hurt, my teeth might ache, or often my left shoulder.
I hear from long neglected parts each day that I grow older.

On some days there is brand new pain. Sometimes it hurts so bad
In places, heretofore, that I did not know that I had.

Thereís cheek, and jaw, and palate, and mandible, and chin,
And upper-arm and elbow, and femur, knee, and shin.

Thereís eyebrow, rib, and sinus. Thereís finger, knuckle, nose,
Or wrist, and palm, and ankle, or heel, foot, and toes

Thereís neck, and throat, and clavicle.Thereís diaphragm, and lung,
And, scapula, and hamstring, and sternum, lip, and tongue.

Add stomach, heart, intestine, bicep, eardrum, eye,
To gall bladder, and kidney, liver, spleen, and thigh.

And some parts have parts of their own, like my old aching back ó
Thoracic, lumbar, cervical, and sacroiliac.

Each part provides a service, from fallen arch to head,
Gleefully reminding me that I am not yet dead.

The parts decide which part will hurt. I am not the chooser.
My body is an equal-opportunity abuser.


© by Darrell Arnold.
Used here with the authorís permission.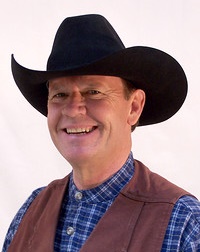 Darrell Arnold has been writing poetry for more than forty years. He was an associate editor at Western Horseman magazine for five years, then launched his own publication, Cowboy Magazine, which ran for nearly eighteen years. Poetry, primarily cowboy poetry, was an integral part of both publications. In the early '90s, Darrell started turning his poetry into songs and has now had more than 20 poems recorded by various western singers; two of them have earned song-of-the-year" awards from Western Writers of America and the Western Music Association. Darrell continues to write poetry and has extended an open invitation to cowboy singers everywhere to team up with him to make more memorable songs. For details and special pricing on his books, contact him at P. O. Box 3097, Colorado City, AZ 86021.
Jo:
Really enjoyed the humor in dealing with the aches and pains of an aging body.
Posted 04/11/2022 11:30 PM
MLove:
Man, I feel your pain (har har har)! Great poem! Thanks!
Posted 04/03/2022 08:49 PM
MLove:
Man, I feel your pain (har har har)! Great poem! Thanks!
Posted 04/03/2022 08:49 PM
Darrell Arnold:
Thank you all for your kind comments. We of a "certain age," as bruceniedt gently puts it, understand the cold and inevitable reality of aging. Young people may grin, but they have no idea about what is to come. We "seasoned citizens" confront our future with resignation, dignity, and humor. Thank God for humor. It definitely helps us cope.
Posted 04/03/2022 08:58 AM
bruceniedt:
Darrell, this is a delightful poem that makes all of us of a "certain age" LOL! I don't think you left out many body parts. I like your humor, strong sense of meter, and inventive rhyme.
Posted 04/02/2022 12:07 PM
Adriana:
aint it the truth - one part's pain recedes, another takes over, and I seem to have no say in the matter - I think they take turns to make sure one of them is present each day - love the next to last verse...
Posted 04/02/2022 12:53 AM
Darrell Arnold:
Comment to paradea: Clever and funny. I love it.
Posted 04/01/2022 02:44 PM
Lori Levy:
Love the rhyme and humor in this poem.
Posted 04/01/2022 01:24 PM
Kelly Scott:
Thank you for starting my day with a laugh. Great Job!
Posted 04/01/2022 12:19 PM
Arlene Gay Levine:
So true, so funny! Love the last stanza...well done, Darrell.
Posted 04/01/2022 11:32 AM
Wilda Morris:
I can relate, too, to this very clever and creative poem! Thanks for sharing it. Who ever read the word sacroiliac in a poem before?
Posted 04/01/2022 09:52 AM
paradea:
Now, all these parts are 'in my head'. I think that I'll go back to bed!!!
Posted 04/01/2022 09:30 AM
cork:
I got my Moderna booster yesterday, and my arm hurts this morning. It may keep me alive.
Posted 04/01/2022 09:08 AM
KateTompkins:
Oh so very true, but the humour makes it go down better.
Posted 04/01/2022 08:56 AM
Michael:
I can relate . . . unfortunately!!
Posted 04/01/2022 08:16 AM
Larry Schug:
I'd like to hear you say this poem as we bounced across an old pasture in a beat up pick-up full of hay bales, the cattle waiting. About the poem it expresses to me that aches and pains and aging can be one hell of a ride if we pay attention to it. It let's us know we're still here.
Posted 04/01/2022 08:00 AM
MaryLeeHahn:
Sadly, I can SO relate to this poem!
Posted 04/01/2022 06:39 AM