Before Siri and computers
(and bogus emails coming in),
paper maps were routers
and Spam came in a tin.


From BackWords Logic (Local Gems Press, 2017).
Used here with permission.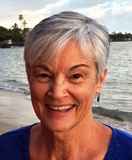 Barbara Lydecker Crane is a poet and professional artist. A former graphic designer, her award-winning work is widely published and her fourth book, You Will Remember Me, a collection of sonnets about art and artists through the centuries, is forthcoming from Able Muse Press. Barbara and her husband, grandparents of four, live near Boston, Massachusetts.
PAW:
Great! Love it! Upbeat.
Posted 04/09/2022 03:49 AM
Wilda Morris:
Fun poem! I love it!
Posted 04/04/2022 10:21 AM
Lori Levy:
Great!
Posted 04/02/2022 01:02 PM
Larry Schug:
You mean there's some other kind of map beside paper? What'll they think of next!
Posted 04/02/2022 12:04 PM
Barb C. :
Thanks for the good words! I agree, longer would be nice here...but this collection is all rhymed quatrains that contain a pair of words that spell each other backwards; Plug / gulp; deliver / reviled; regal / lager. And all the poems are illustrated with line drawings. The book now costs less than $2, online!
Posted 04/02/2022 11:08 AM
Michael:
Delightful and oh, so true! Thank you, Barbara.
Posted 04/02/2022 09:58 AM
KevinArnold:
Charming.
Posted 04/02/2022 09:30 AM
paradea:
Good one. I would like it longer, too!!!
Posted 04/02/2022 09:29 AM
cork:
I have a fantastic paper map collection and three cans of Spam on the shelf.
Posted 04/02/2022 09:17 AM
Darrell Arnold:
Old school for me. I like paper maps, though, I prefer flat maps in beautiful, printed atlases. I'm also happy that this poem rhymes. Rhymes can be remembered.
Posted 04/02/2022 08:47 AM
abarber555@aol.com:
Lovely nostalgic stanza! I still use paper maps. Wished this poem was l o n g e r. Id just got reminiscing when it ended!
Posted 04/02/2022 05:47 AM