I call my house, it's empty
and my own voice responds,
painfully hesitant, saying I'm
unavailable.  I can hear
gaps in the apology, the whirring
tape, a stammer, a repetition,
an indrawn breath, then finally
and blessedly, the beep.

And I had redone that three times,
the first inaudible, the second
grammatically incorrect, and then
this one.  I listen to the tape
recording silence, an expectant
hum, and I hang up.

If it was all that hard
just to express absence,
then how can I begin
to tell you that I'm here?


From Life List  (Resource Publications, August, 2021)).
Used here with permission.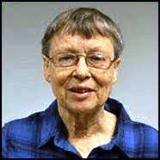 Janet McCann taught creative writing and other vices to Aggies at Texas A&M for more than forty years. Now a professor emerita, she lives in College Station, Texas, with her dog. Janet's award-winning work is widely published in several genres, including textbooks, biographies, and poetry. Her most recent book is Life List: New and Selected Poems, from Resource Publications. Janet has a special concern for feral cats and other beings who are overlooked or abused.
Wilda Morris:
I can identify!
Posted 04/14/2022 09:14 AM
Jancan:
Your poem is vividly descriptive of a frustrating experience! I like the humor in the last stanza.
Posted 04/14/2022 12:19 AM
Larry Schug:
I bet when you wrote the last two lines of this poem it took your breath away. It is a state of being that few humans attain. They are perfect, exquisite! Not to mention the insight these words provide.
Posted 04/13/2022 09:26 PM
Adriana:
Delightful - Clever - Profound final verse. I can see the first lines of a new poem: "How can I begin/to tell you that I'm here?" Such possibilities!
Posted 04/13/2022 03:46 PM
Lori Levy:
Made me laugh! Great ending.
Posted 04/13/2022 02:56 PM
Arlene Gay Levine:
Janet, your poignant, wise and funny poem tells us that, indeed, you are here!
Posted 04/13/2022 11:38 AM
Darrell Arnold:
". . . blessedly, the beep. . ." I love Janet's sense of humor.
Posted 04/13/2022 10:49 AM
paradea:
Love this poem!!!
Posted 04/13/2022 09:13 AM
cork:
I may rethink my answering machine.
Posted 04/13/2022 08:53 AM
Rob:
The existence of your poem answers that final wonderful question. Ha ha! Love that!
Posted 04/13/2022 06:53 AM
MatthewMiller:
Lovely, especially that final stanza!
Posted 04/13/2022 05:55 AM