through the neighborhoods
mostly collar and tag-less
since each knew where it lived.
Alone or in packs of rag-tags,
all breeds, varied mixes and sizes,
once a dachshund trailing in back,
tiny legs a blur of syncopated motion.

Not a foot of our town went unexplored,
the smells so enticing, none unimportant.
And tastes.
They tasted everything.
Even out of town along the tracks
where the Italian section workers left
bits of crusty oil-soaked sandwiches
or the shell of a cannoli.

There were attritions, of course,
hit by cars, dog catchers on the prowl for
reported and random miscreants rounded up
and tossed, unidentified, into the pound.
If your dog was lost,
first you called the pound.

Some wanderers we grew to love
as they stopped by for a visit.
Duffy, who raided neighbor's yards,
gifting us with one galoshes (galosh?),
the next day the other, dozens of balls,
and once a Red Sox baseball cap--
all for a coveted piece of cheese
and some loving.

At end of day, except for strays
who were never rescued by kind souls,
all returned home to their bowls of
water and kibble, no questions asked,
they slept, full of dog tales, happy yelps
in dreams, remembering their good,
very good day.


© by Carol Amato.
Used here with the author's permission.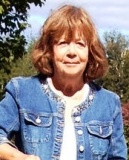 Carol Amato says poetry has allowed her to assume many lives—the earliest being, at age five, ringmaster of the Barnum & Bailey circus and the latest being the spiritual sister of a wolf. In between, she has enjoyed stints as a minor-league baseball player, a gatherer of clouds, and once, slow dancing with the moon. Carol's realities include being a language-learning specialist, a natural science educator, and author of ten books for children (The Young Readers Series published by Barron's Educational Series, Inc.) and Backyard Pets, Nature Activities Close to home, published by John Wiley & Sons) about threatened and endangered animals. Carol, who lives in Massachusetts, considers herself fortunate to have both an active imagination and enough reality to survive.
Jo:
As always, Carol, your poems resonate. You are one talented and generous human being
Posted 04/14/2022 10:52 PM
Teresina:
Brought back fond memories! Our neighborhood had loose dogs everywhere. They knew to go home at night, same as the kids!!!
Posted 04/14/2022 01:07 PM
Lori Levy:
I don't have a dog, but I enjoyed the poem.
Posted 04/14/2022 12:28 PM
Jccjccac@aol.com:
I remember those days. Thanks for reminding of the old days that were so much simpler
Posted 04/14/2022 11:21 AM
paradea:
Love it!!!
Posted 04/14/2022 11:02 AM
Michael:
Wonderful life within the orbit of poetry, Carol . . . your poem resonates! I grew up in a small rural community with many such experiences with dogs. Everyone had a dog!!
Posted 04/14/2022 09:19 AM
Wilda Morris:
A fun poem, even for people like me who never owned a dog!
Posted 04/14/2022 09:12 AM
Darrell Arnold:
At once, causing me both joy and sadness. Joy for the many dogs I've loved and been loved by, and sadness for the times of their leaving. I am also joyful for the millions of dogs who have loving homes, and sad for the millions who do not. A dog can fill your life with thousands of joyful moments. I'm happy to be a dog lover, too.
Posted 04/14/2022 09:05 AM
Nabby Dog:
This is a delightful poem!
Posted 04/14/2022 08:08 AM
Larry Schug:
You had me with the word "Dogs" in the title and the poem did not disappoint. There are all kinds of different societies and ways to live in this world; this poem shines its light on one of them.
Posted 04/14/2022 07:48 AM