I would my soul were like the bird
That dares the vastness undeterred.
Look, where the bluebird on the bough
Breaks into rapture even now!
He sings, tip-top, the tossing elm
As tho he would a world o'erwhelm.
Indifferent to the void he rides
Upon the wind's eternal tides.

He tosses gladly on the gale,
For well he knows he can not fail—
Knows if the bough breaks, still his wings
Will bear him upward while he sings!


This poem is in the public domain.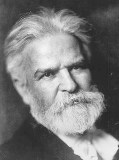 Edwin Markham (1852 – 1940) was an American poet and essayist. A teacher, principal, and school superintendent early in his career, he eventually wrote eight books and served as Oregon's poet laureate. Forced to work as a farm laborer as a child, Edwin frequently spoke out against child labor and on behalf of the working class.
Anastasia:
Thank you, Jayne! A lovely poem, and a new-to-me poet!
Posted 04/20/2022 10:42 PM
Jancan:
Great choice for today! A lovely, inspirational poem
Posted 04/19/2022 08:27 PM
Janet Leahy:
The word rapture is wonderful in this poem, thanks for sharing this poem and bio.
Posted 04/19/2022 12:39 PM
KevinArnold:
An ode to exuberance. Our local poetry center is in his old house.
Posted 04/19/2022 10:20 AM
Wilda Morris:
A beautiful poem. Thank you for sharing it.
Posted 04/19/2022 09:05 AM
Darrell Arnold:
Such a simple subject conveying such a strong message. I like this masterfully composed poem.
Posted 04/19/2022 09:02 AM
Larry Schug:
Interesting bio. May we all "be born upward while we sing" so to speak.
Posted 04/19/2022 08:29 AM