The Jaybird he's my favorite
     Of all the birds they is!
I think he's quite a stylish sight
     In that blue suit of his:
An' when he' lights an' shuts his wings,
     His coat's a "cutaway" --
I guess it's only when he sings
     You'd know he wuz a jay.

I like to watch him when he's lit
     In top of any tree,
'Cause all birds git wite out of it
     When he 'lights, an' they see
How proud he act', an' swell an' spread
     His chest out more an' more,
An' raise the feathers on his head
     Like it's cut pompadore!


This poem is in the public domain.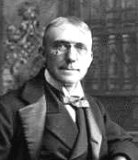 James Whitcomb Riley (1849 - 1916) was an American poet best known for his children's poems and dialect-based verses. James was born in Greenfield, Indiana, and later moved to Indianapolis; homes in both cities are preserved and open to the public today. James was hugely popular during his lifetime. A bestselling author who traveled the country speaking to sell-out crowds, he never married or had children of his own, but he loved children and they loved him back. When he died, more than 35,000 people came to pay their respects as James lay in state under the Indiana capitol dome. 
PAW:
Delightful. Flows well.
Posted 04/21/2022 02:39 PM
Darrell Arnold:
I like what Larry said about being remembered. If, a hundred years from now, someone reads a poem I wrote or a song to which I contributed the lyrics and says, "Who the heck was Darrell Arnold?", I will have done something worthwhile. I used to think I would settle on some bird as my favorite. But I am not capable of choosing just one. I have many "favorites." God's critters are wonders, and we are blessed to have a multitude of different kinds to marvel at and enjoy.
Posted 04/20/2022 01:08 PM
paradea:
Love it!!!
Posted 04/20/2022 10:41 AM
Wilda Morris:
Another fun poem. James Whitcomb Riley was one of my favorite poets when I was a child - and I still enjoy his folksy poems.
Posted 04/20/2022 10:17 AM
cork:
As a child, I considered the blue jay a villain, but cannot remember why.
Posted 04/20/2022 09:24 AM
Michael:
Love Whitcomb's "folksy" Indiana brogue. How blessed we were with his presence.
Posted 04/20/2022 08:27 AM
RonPoems:
Thanks, Jayne, for an old, fun poem from an old, fun poet.
Posted 04/20/2022 08:16 AM
Larry Schug:
Could have been written yesterday. Thanks Jayne for keeping these old poems alive. I think Riley would be thrilled to know people still read his words 122 years after his death. I can only hope for the same.
Posted 04/20/2022 07:23 AM