With paintbrush in hand, kept moist for todayís watercolor,
I swish a cardinal here and blue jay there, with wood tones as accents.

Moist mushrooms grow around the puddles,
††† The scent of brown.

Strawberries grace the gardenís edge
††† In summertime.

Blueberries begin to peak by the pond
†† And pathways.

Cotton candy sunset clouds drift together
††† In the sky.

Creamy gouache emphasizes sparkling light on the scene,
††† As white chocolate,

With all of the flavors covering the watercolor paper
And now Iím hungry.


© by Joan Luther.
Used with the authorís permission.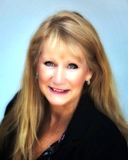 Joan Luther lives in Illinois, where she enjoys writing, painting, and photography. A descendent of Martin Luther, she is the mother of two grown children, has provided foster care for dogs for many years, sings in her church choir, and enjoyed a corporate career selling telecommunication services and equipment. Tired of cold weather, Joan plans to move south in the near future. In the meantime, she stays busy hiking in search of 4, 5, and 6-leaf clovers.
Jancan:
Lovely poem with vivid and appealing imagery!
Posted 04/22/2022 08:20 AM
Lori Levy:
Sensual with beautiful images.
Posted 04/21/2022 01:31 PM
Anastasia:
A wonderful word painting! And yes, now it's time for a snack!
Posted 04/21/2022 01:12 PM
Michael:
Congratulations, Joan, on your debut in YDP . . . your poem, so appropriate for the season . . . filled with delightful images.
Posted 04/21/2022 09:00 AM
Sharon Waller Knutson:
I want to eat this delicious poem. I can taste the strawberries, blueberries, cotton candy, white chocolate.
Posted 04/21/2022 07:34 AM