We have not heard the music of the spheres,
The song of star to star, but there are sounds
More deep than human joy and human tears,
That Nature uses in her common rounds;
The fall of streams, the cry of winds that strain
The oak, the roaring of the sea's surge, might
Of thunder breaking afar off, or rain
That falls by minutes in the summer night.
These are the voices of earth's secret soul,
Uttering the mystery from which she came.
To him who hears them grief beyond control,
Or joy inscrutable without a name,
Wakes in his heart thoughts bedded there, impearled,
Before the birth and making of the world.


This poem is in the public domain.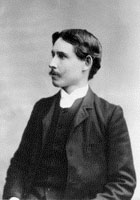 Archibald Lampman (1861 - 1899) was a Canadian poet who is often compared to America's Henry David Thoreau. Born and raised in Ontario and drawn to nature from an early age, Archibald was an excellent student but a bout with rheumatic fever left him in less than robust health. He taught briefly before taking a position as a post office clerk, a job he held till his death at the age of 37 from a heart condition caused from his childhood illness. Archibald began writing poetry during his college days, and saw his work published in Canadian, American, and British publications. He wrote three books and is respected today as one of Canada's finest poets.
>
Anastasia:
What an amazing poem! And a new-to-me poet. Thank you, Jayne!
Posted 04/23/2022 06:24 PM
Janet Leahy:
I will carry this poem with me today, love the mystery that flows through this poem. Thank you Jayne for bringing us this remarkable poet and I appreciate the information on his life.
Posted 04/22/2022 02:51 PM
Surprise Reading Teacher:
Beautiful. I especially like the use of the word impearled... in our hearts. What a lovely thought.
Posted 04/22/2022 11:15 AM
Wilda Morris:
Exquisite, as Michael said!
Posted 04/22/2022 08:46 AM
paradea:
This is beautiful!!!
Posted 04/22/2022 08:44 AM
Michael:
Exquisite sonnet . . . was Mr. Lampman ahead of his time in terms of his appreciation of the natural world and its origins?
Posted 04/22/2022 08:42 AM
Darrell Arnold:
Wow! This is deeper than I can comprehend, fully. I never considered the existence of sounds that exist sphere to sphere or more deep than human joy or voices of the earth's secret soul. There is much to ponder, here. Awesome!
Posted 04/22/2022 08:37 AM
Larry Schug:
Don't we all long for those moments of clarity, when we can unclutter ourselves enough to hear "the voices of earth's secret soul"? Too bad Lampman died so young.
Posted 04/22/2022 08:34 AM