We share a common language
On that we can agree
But many of our much-used words
Are different as youíll see

Americans like candy
The Brits enjoy their sweets
We like crisps and you like chips
When both indulge in treats

You have blow-outs on the highway
We have punctures on the road
But you have tires and we have tyres
From which the air has flowed

We really like our biscuits
With coffee and with tea
For you it is your cookies
Though same in recipe

Movies in America
Are films in old GB
We buy at shops and you at stores
Itís how it needs to be

Your drapes you close at night-time
Opened curtains greet our day
Our rubbish is your garbage
For the stuff we throw away

Our trousers hang on braces
Suspenders hold your pants
Our trainers are your sneakers
On which to run and dance

We look forward to our holidays
As you to your vacations
The joy of our shared language
With all its variations


© by Nick Balmforth.
Used with the authorís permission.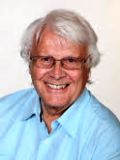 Nick Balmforth is a retired safety inspector of children's indoor play centres. His primary published work has been in the field of safety standardization for the British and European indoor play industry and he was awarded an MBE (Member of the Most Excellent Order of the British Empire) for his work in 2012. Nick is also a successful voice-over artist and, in addition to poetry, enjoys jazz. He lives in Staffordshire, England.
jamvan:
nice observations - very cute :)
Posted 04/26/2022 01:13 AM
Adriana:
So clever, so delightful, so well written - itching to write a poem about the wonderfully differing British pronunciation of the words ambivalent, controversy, urinal, regulatory, respiratory...but not a clue how to do. Maybe you, Nick, will write it ???
Posted 04/25/2022 08:29 AM
Anastasia:
What a fun poem, and a wonderful way to celebrate today!
Posted 04/23/2022 06:21 PM
joan:
Enjoyed this light-hearted take on language differences! Great post for Langauge day
Posted 04/23/2022 03:51 PM
Lori Levy:
Funny. Youve captured a lot of the differences.
Posted 04/23/2022 02:16 PM
Kelly Scott:
I'm a "movie buff" and I enjoy British films. Your poem was very amusing. Always love the British words tele for television and row for argument. I too love your work.
Posted 04/23/2022 10:07 AM
cork:
And these contrasts could go on and on without end.
Posted 04/23/2022 09:59 AM
KevinArnold:
Fun. Yes, mjurlock, Bravo! Perhaps even a "Hip, hip, hurray!"
Posted 04/23/2022 09:36 AM
Darrell Arnold:
Brilliant, Nick. Your poem reminds me of a hero of mine, Britisher Thomas Hood. A wordplay genius. I love your work.
Posted 04/23/2022 08:54 AM
Larry Schug:
I bet you could go on and on with this poem. It leaves the reader to think of some lines of their own.
Posted 04/23/2022 08:19 AM
mjorlock:
Very clever! Both sides say "Bravo!"
Posted 04/23/2022 08:15 AM
Sharon Waller Knutson:
I love this charming, delightful uplifting poem comparing the difference in words of Americans and Brits. Learned some new words: Braces for suspenders and trainers for sneakers.
Posted 04/23/2022 07:53 AM
Joan Luther:
What a fun comparison! Weve Americanized the English language
Posted 04/23/2022 07:14 AM