Everything a wren is
is evident in the twitch
of tail feathers, head and wings
that indicate an itch
to change a peak perspective
to hop from perch to perch
to zero/zoom on some small thing
within aspect of its search.

For that essential something
that something that it wants
is coiled in its bearing
compelling it to hunt;
if not behind this leaf or twig
that bush or bark or bough
if not somewhere on this tree
to another it will go.

How like me most mornings
pecking through my words
alert to find the finest ones
the choicest nouns and verbs
to fill an empty appetite
for a fulsome phrase or line;
like my friend, the common wren
Iím searching all the time.


© by Mike Orlock.
Used with the authorís permission.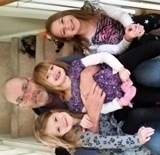 Mike Orlock is a retired high school English and American History teacher who divides his time between the Chicago suburbs and a vacation home in Sturgeon Bay, Wisconsin. He has been married for 46 years to his high school sweetheart and inspiration, Liz, and greatly enjoys being grandfather to five beautiful granddaughters who keep him, he says, "jumping like a frog on a hot skillet." Mike's short stories, poems, and reviews have appeared in a variety of publications and he has just been named Poet Laureate of Door County, Wisconsin, a position he will hold for the next two years. Mike's latest book is Con/Verse/Sations, released last fall.
†
Anastasia:
I love these delightful birds, and this poem is wonderful!
Posted 04/24/2022 11:26 PM
Lori Levy:
Great portrayal of the wren and metaphor.
Posted 04/24/2022 06:12 PM
TheSilverOne:
Love this poem! ~D.Bezio
Posted 04/24/2022 03:40 PM
Jo:
Thanks Mike. A good one.
Posted 04/24/2022 11:37 AM
CamilleBalla:
Nice!
Posted 04/24/2022 10:56 AM
KevinArnold:
Rhyming couplets hold this poem together like glue.
Posted 04/24/2022 10:27 AM
paradea:
Good one!!
Posted 04/24/2022 10:09 AM
cork:
I love the comparison and may become a wren myself searching for a poem.
Posted 04/24/2022 09:30 AM
Joan Luther:
The rhythm of this gives the feeling of a wren hopping from branch to branch. Lovely poem!
Posted 04/24/2022 08:58 AM