Green wing and ruby throat,
    What shining spell, what exquisite sorcery,
Lured you to float
    And fight with bees round this one flowering tree?

Petulant imps of light,
    What whisper or gleam or elfin-wild perfumes
Thrilled through the night
    And drew you to this hive of rosy bloom?

One tree, and one alone,
    Of all that load this magic air with spice,
Claims for its own
    Your brave migration out of Paradise;

Claims you, and guides you, too,
    Three thousand miles across the summer's waste
Of blooms ye knew
    Less finely fit for your ethereal taste.

To poets' youthful hearts,
    Even so the quivering April thoughts will fly,--
Those irised darts,
    Those winged and tiny denizens of the sky.

Through beaks as needle-fine,
    They suck a redder honey than bees know.
Unearthly wine
    Sleeps in this bloom; and, when it falls, they go.


This poem is in the public domain.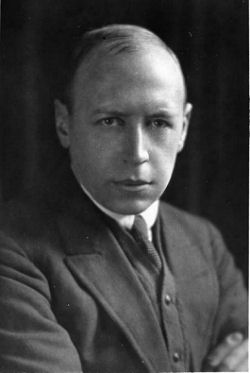 Alfred Noyes (1880 - 1958) was an English writer whose body of work included poetry, novels, short stories, children's books, and plays. He attended Oxford, but failed to earn a degree because, supposedly, he missed his final exams to meet with the publisher who was preparing his first collection of poems. By the time he was 27, Alfred had six books in print, one of which included "The Highwayman," a rousing tale of adventure which remains popular to this day. Alfred's poetry was popular in both public and academic circles; he was able to support his family from the royalties off his books. He did several lecture tours in the U.S. and was a visiting professor at Princeton for a time; one of his students was F. Scott Fitzgerald.
Wilda Morris:
I especially like the phrase, "Petulant imps of light."
Posted 04/29/2022 10:14 AM
Anastasia:
"unearthly wine"what a phrase! What an amazing poem!
Posted 04/27/2022 12:48 PM
Arlene Gay Levine:
Stanza 3 resonates as an accurate reflection of my feelings first time I saw a humming bird, wings vibrating at the speed of light, to taste the "unearthly wine" of my pink roses. A gem of a poem! Thank you, Jayne.
Posted 04/27/2022 11:38 AM
Kay N. Sanders:
I love poems that sing themselves in my ear. This one does.
Posted 04/27/2022 09:37 AM
paradea:
Love it!!
Posted 04/27/2022 09:36 AM
KinVT:
Words, beautiful words. I loved Those irised darts
Posted 04/27/2022 09:35 AM
Michael:
Wonderful formulaic precision to this poem, not to mention the poet's fluid descriptions of the birds themselves: "Through beaks . . . needle-fine."
Posted 04/27/2022 09:03 AM
cork:
Will the hummingbirds return soon or wait until blossoms bloom?
Posted 04/27/2022 08:58 AM
VodVonDetta:
Really lovely. I wonder, is the last stanza a reference to blood? The unearthly wine...
Posted 04/27/2022 06:23 AM