'Tis simply detestable weather!
     At home I'm determined to stay;
A fortune I've spent in shoe-leather,
     And ruined three hats ev'ry day!
Umbrellas I've borrowed and broken,
     And angered their owners no doubt:
These things I consider a token,
     'Tis not the least use to go out!
          But let the weather be foul or fair,
          I'll sit and smile in my Easy Chair!

The morning's uncertain and hazy—
     I can't be quite sure of the time—
I'm feeling exhausted and lazy,
     Not equal to reason or rhyme!
While streets still are muddy and sloppy,
     While bitter the easterly breeze,
I'll maunder and nod like a poppy,
     And take forty winks at mine ease!
          My dreams are pleasant, so I don't care.
          I'll sit and snooze in my Easy Chair!

There's nothing of note in the papers,
     There's nothing to do or to say:
We suffer extremely from "vapours"—
     The fog and the damp of each day.
Though cities be frozen or flooded,
     'Tis useless to fume or to fret;
Though friends are bespattered and mudded—
     I'll smoke a serene cigarette!
          And all the burdens I have to bear,
          I'll smoke away in my Easy Chair!

Within it is snug and quiescent,
     Without it persistently pours;
My chair is well-cushioned and pleasant,
     Though life's full of angles and bores!
My room is deliciously torrid,
     By frost or by rain I'm unvext;
The world is decidedly horrid—
     So call me the month after next!
          The world may roll and may tear its hair,
          I'll roll and laugh in my Easy Chair!


This poem is in the public domain.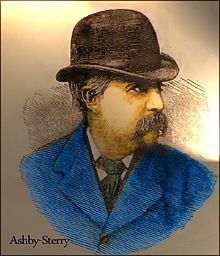 Joseph Ashby-Sterry (1836 - 1917) was an English author and artist who wrote novels, essays, and poetry. The only other details we've been able to unearth about his life thus far is that he lived in London and enjoyed rowing and sailing.
Wilda Morris:
A fun read. Thank you for introducing me to Ashby-Sterry. I am not familiar with him or his work.
Posted 04/29/2022 10:13 AM
Anastasia:
I feel a deep kinship with Mr. Ashby-Sterry!
Posted 04/28/2022 09:09 PM
KinVT:
A wee bit dated but Im definitely with him on the sentiment. Nice, amusing, traditional poem.
Posted 04/28/2022 11:57 AM
cork:
I thought I was reading a poem by Edgar Guest.
Posted 04/28/2022 09:33 AM
Joan Luther:
The rhythm and rhythm envelope me. What a joy to read this, thinking of him writing in England, cushioned in his easy chair!
Posted 04/28/2022 08:51 AM
Darrell Arnold:
This is my kind of poem. I like the rhythm, I like the rhyming (I've seen unvext" before, but the meaning is clear), and I like the attitude. I try not to do stress. Others can do that if they so choose. I'll let all that turmoil pass on by while I take the easier, simpler, more pleasant path.
Posted 04/28/2022 08:50 AM
Jgonzalez 1994:
Sage advice. He will be at home on his easy chair, best thing you can do is stay away from people.
Posted 04/28/2022 08:24 AM