"Take it," Aunt Tillie insisted.
 
We sat side by side, our bare legs
sticking to her plastic-wrapped couch
in that hot apartment on 34th Street.
 
"An heirloom," Aunt Tillie said,
shoving the ornate tray in our laps.
"To pass down to your children."
 
Who had absolutely no interest
forty years later, to waste even
a minute with a polishing cloth.
 
So Aunt Tillie's silver tea set
goes to Goodwill
along with my vintage china.
 
Aunt Tillie had been so sure
generations would treasure
the chance to entertain in elegance.
 
But she spent her life, like I did,
accumulating things that would one day
be dumped for a tax donation.  
 
Unloading my car, I see I am not alone.
So many others my age, discarding
knickknacks we once thought we needed
but now wish to unstick from our skin
like the plastic on Aunt Tillie's couch.


© by Jacqueline Jules.
Used here with the author's permission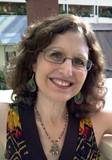 Jacqueline Jules is a former librarian who found herself intrigued by almost every book she put on the shelf. As a reader and as a writer, she doesn't restrict herself to one genre. She is the author of 50 books for young readers on a wide variety of topics, including a poetry book for young readers on the joy of activity called Tag Your Dreams: Poems of Play and Persistence (Albert Whitman, 2020). Jacqueline is also the author of four poetry books for adults, including a collection of biblically inspired poems, Manna in the Morning (Kelsay Books, 2021). She recently moved to Long Island to be closer to her grandchildren. Learn more about her at www.jacquelinejules.com.



MLove:
So true and so well-crafted. As I go through my mother's, mother in laws, and numerous aunts' treasures, I will remember that I'm unsticking them like the naugahyde sofa. It hurts a bit but once it's over you're glad to be free!
Posted 05/13/2022 01:05 PM
Lori Levy:
I find this more true and funny than sad. I can totally relate to this.
Posted 05/12/2022 06:31 PM
CamilleBalla:
Nice poem and so true. A bit sad, but thinking one day the silverware and China will be back in. LOL I will not wait for that day.
Posted 05/12/2022 10:32 AM
RonPoems:
Aunt Tillies tea set is everywhere. Thank you.
Posted 05/12/2022 09:54 AM
forrsher2:
Yes, makes sense in a logical way, but still hurts my heart.
Posted 05/12/2022 09:40 AM
Michael:
Insightful . . . totally on target, Jacqueline, Thank you.
Posted 05/12/2022 09:19 AM
cork:
The plastic on the couch reminds me of people who leave the plastic on mattresses whose crackling keeps you up all night.
Posted 05/12/2022 09:01 AM
KevinArnold:
Oh, this one really hits home. I have multiple silver sets. Well crafted.
Posted 05/12/2022 08:58 AM
Larry Schug:
My ninety-three year old aunt, near her last days, said "It's all just stuff". Really what do we need but a teapot, a fire, any old cup (perhaps a couple of them so we don't drink our tea alone). Kudos on a fine poem that uncovers a simple truth. So much to contemplate in these words. It has inspired me to write my own poem. Thank you.
Posted 05/12/2022 07:57 AM
Sharon Waller Knutson:
I can relate completely to this wise insightful poem. My mother in law died with valuables hidden all over the house. We tried estate sales and giving them to family. No one entertains with fancy China anymore so they ended up at Goodwill.
Posted 05/12/2022 07:38 AM
r1manchester:
J.... more of a sad story than a poem, but, to be sure, it is all too true....days gone by!
Posted 05/12/2022 06:28 AM