undertake reconnaissance at the communal water spigot.
Two kids, girl, boy, then their 30-ish dad scurry

like gray squirrels in disguise as humans.
And, like common indigenous rodents, affect

nonchalance when washing paws of forest detritus.
One furtive glance with beady eye on me,

camper in the blue Eureka!® tent across
the sandy path on #10, one quick sniff of vanilla,

and they scamper away, chattering, mama, mama,
there's a woman alone over there, alone, alone.


© by Karla Linn Merrifield.
Used with the author's permission.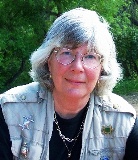 Karla Linn Merrifield's poems have appeared in dozens of journals and anthologies and she is the author of 14 books. Karla describes herself as "a poet who likes to go places" and "one who likes to take people places, attributes well-served by her appointment as a National Park Artist-in-Residence. Her latest book is a poetry collection, My Body the Guitar, inspired by famous guitarists and their guitars. Learn more about Karla at https://www.karlalinnmerrifield.org/ and https://karlalinnmerrifeld.wordpress.com/.
Wilda Morris:
Wonderfully clever and humorous, but showing an aspect of human behavior. Well-done, Karla!
Posted 05/16/2022 08:55 AM
Lori Levy:
Like the humor in this poem.
Posted 05/14/2022 02:10 PM
Sharon Waller Knutson:
I loved this humorous poem, not just for the metaphors of spies and rodents for humans, but for the surprise ending: "one quick sniff of vanilla, and they scamper away, chattering, mama, mama, theres a woman alone over there, alone, alone."
Posted 05/14/2022 10:19 AM
KevinArnold:
Not just squirrels but specifically gray squirrels. Yes. And who puts in a poem? Yes.
Posted 05/14/2022 10:03 AM
Michael:
Like "undertaking reconnaissance at the communal water spigot." Nicely done, Karla!
Posted 05/14/2022 08:28 AM
Larry Schug:
A poem like a mini video. I like the idea of intentional "aloneness". the narrator seems both in and out of the picture.
Posted 05/14/2022 08:11 AM
MLove:
what a great poem and great use of zoomorphism! (Had to look up that word)
Posted 05/14/2022 07:42 AM