Oh, the merry May has pleasant hours,
     And dreamily they glide,
As if they floated like the leaves
     Upon a silver tide.
The trees are full of crimson buds,
     And the woods are full of birds,
And the waters flow to music
     Like a tune with pleasant words.

The verdure of the meadow-land
     Is creeping to the hills,
The sweet, blue-bosom'd violets
     Are blowing by the rills;
The lilac has a load of balm
     For every wind that stirs,
And the larch stands green and beautiful
     Amid the sombre firs.

There's perfume upon every wind –
     Music in every tree –
Dews for the moisture-loving flowers –
     Sweets for the sucking bee;
The sick come forth for the healing South,
     The young are gathering flowers;
And life is a tale of poetry,
     That is told by golden hours.

If 'tis not a true philosophy,
     That the spirit when set free
Still lingers about its olden home,
     In the flower and the tree,
It is very strange that our pulses thrill
     At the tint of a voiceless thing,
And our hearts yearn so with tenderness
     In the beautiful time of Spring.


This poem is in the public domain.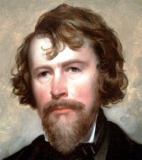 Nathaniel Parker Willis (1806 – 1867) was born in Maine to a family of writers and publishers. He began publishing his poetry while attending Yale and, soon after graduation, launched a magazine. Working as an editor and freelance writer, Nathaniel spent several years in Europe before returning to live in New York, writing and developing friendships with leading authors of the time, including Charles Dickens, Edgar Allan Poe, and Henry Wadsworth Longfellow. At one point, he was the highest paid magazine writer in America. Nathanial married several times, endured the loss of two children, and suffered from epilepsy in his later years. A large man and dapper dresser, he was generally regarded as good-natured and well-respected.
Anastasia:
Time to cancel all my meetings and spend a day outdoors! Thank you for introducing this new poet, Jayne!
Posted 05/24/2022 12:10 PM
Darrell Arnold:
There are so many things to notice about nature in the spring. Mr. Willis notices things I might not even know I'm noticing. Very Nice.
Posted 05/22/2022 09:27 AM
Joan Luther:
Very musical piece and I can almost inhale the scenery.
Posted 05/22/2022 08:50 AM