We squeeze the pungent, loamy soil
As if we're kneading dough
To make crusty, yeasty bread
And our fingers with blackened nails poke breathing holes
Where the rainbow will gleefully spring forth
From the seeds we've sown.

We know each delicate bud before it unfolds its secrets
And we eagerly anticipate the intoxication of the lush velvet roses
And the dizzying perfume of the creamy gardenias
Awaiting the signal
That it's time.

Soon, the verdant canopy surrounding us
Will fill with the trills of the birds
And promises of new life
And hope will once again permeate the air

When all is quiet we will listen
And fill our lungs with breaths of life
While we block out the cacophony of the world.


© by Nancy Machlis Rechtman.
Used with the author's permission.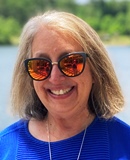 Nancy Machlis Rechtman is a poet, freelance writer, and former newspaper copy editor. Her work has been published in a variety of journals. Nancy has lived on both coasts, but currently makes her home in South Carolina, where she enjoys reading, gardening, cooking, creating art, and playing the guitar. Learn more about her at https://nancywriteon.wordpress.com.
Anastasia:
Such lively descriptions! Our lavender plants enjoyed the recent heat wave, and popped up with an extra bloom!
Posted 06/07/2022 04:52 PM
Lori Levy:
Very sensual.
Posted 06/05/2022 04:23 PM
Sharon Waller Knutson:
I love this sensual picturesque poem. I can smell the pungent loamy soil, feel it kneading like "dough of yeasty crusty bread," under my hands, see the red roses and gardenias and hear the birds trilling.
Posted 06/05/2022 01:11 PM
Shoshauna Shy:
This put me right in my own yard; could smell the loam!
Posted 06/05/2022 11:23 AM
Larry Schug:
This time of year at our place it's all about the garden, the asparagus, in particular (and fixing the tail gate on the old truck). The opening bread making analogy works very nicely.
Posted 06/05/2022 07:49 AM