When my father turned seventy
I realized that seventy
is not old. It is not, in fact,
very much time at all—
especially to read the Bible
enough times. It is almost long enough
to be a modern-day Moses,
growing a beard from black to white
while blowing on a shofar,
the sound of sunset trumpeting for miles
down the river. It is, I think,
after half a night's sleep,
just the right amount of time
to grab our fishing poles,
and thread onto a hook
an earthworm, while it is still dark.
 
 
This poem first appeared in Hartskill Review (Winter 2015).
Used here with permission.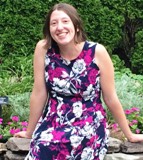 Rebecca O'Bern lives in Coatesville, Pennsylvania with her husband, Elias, and a backyard view that includes many tall trees and several horses. She received her MFA in creative writing in 2017 and currently serves on the editorial staffs of The Southampton Review and Mud Season Review. Rebecca's poems have appeared in a number of journals. When not writing, she enjoys drinking hot tea and reflecting on the work of great thinkers and innovators throughout history. Find her on social media at twitter.com/rebeccaobern.
Wilda Morris:
Interesting turns!
Posted 06/16/2022 12:05 PM
Lori Levy:
This poem pulls me in and holds my interest. Great ending, too.
Posted 06/13/2022 10:46 AM
paradea:
Love this poem!!
Posted 06/13/2022 10:25 AM
Tracers645:
Seventy is the new sixty. :)
Posted 06/13/2022 10:09 AM
Sharon Waller Knutson:
I loved this unique, delightful poem from the title to the last word. My favorite imagery was: It is almost long enough to be a modern-day Moses, growing a beard from black to white while blowing on a shofar, the sound of sunset trumpeting for miles down the river.
Posted 06/13/2022 09:53 AM
cork:
Fishing with worms is serious business!
Posted 06/13/2022 09:00 AM
Michael:
What a poignant tribute to a Father that lives large in your memory. All fathers should be so fortunate. Nicely done, Rebecca!
Posted 06/13/2022 08:23 AM
Larry Schug:
Sometimes it seems like old age is just luck, but it is also what you make of it. The more times I read this poem, the more I enjoy it. I wish I was seventy again (ha ha).
Posted 06/13/2022 06:47 AM