I push her around in that
Little Tike and she screams with excitement,
already long blonde locks twisting
in my manmade breeze.
Then it's, "Your turn, Dad."
So grown up already.
I eye the pink and purple buggy
      and decide it might work better as a scooter.
I stick my left foot through the back
and onto the seat.
 
Soon she's running wildly around the roundabout
that circles the chimney,
narrowly missing the wood stove
and her carefully placed toys,
with me following making sounds like
Christine or some other hot rod.
"Hell on wheels,"
and she repeats me.
"I mean heck on wheels."
Repeats again!
It's really not much better.
Like that time she liked "Cake by the Ocean,"
but we didn't know we had the
unedited version.
 
I just smile as we loop past my wife again,
"I'll try harder."
The little one mirrors, "Try harder, Dad."


© by Matthew McGuirk.
Used here with the author's permission.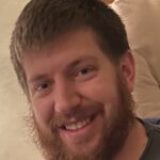 Matthew McGuirk lives with his family in rural New Hampshire, where he teaches high school English. Matthew loved reading and writing from a young age and was especially fond of R. L. Stine and Stephen King. His poetry and short stories have appeared in a variety of magazines and journals. Follow Matthew on Instagram at @mcguirk_matthew.
Wilda Morris:
Ah, yes! That's how the little ones learn.
Posted 06/16/2022 12:03 PM
mmcguirk:
Thanks so much to the people that have checked this one out! Glad people are liking it.
Posted 06/14/2022 04:07 PM
Lori Levy:
Love this. I can picture it.
Posted 06/14/2022 03:30 PM
KevinArnold:
Well, of course I had to look up the cake song's lyrics. Another world for a sixties guy . . . fun poem.
Posted 06/14/2022 10:40 AM
cork:
What the heck!!
Posted 06/14/2022 09:19 AM
paradea:
Love it!!!
Posted 06/14/2022 08:41 AM
Michael:
The wisdom of kids! Never to be dismissed.
Posted 06/14/2022 08:24 AM
Joan Luther:
Adorable! Sweet memories to hold close.
Posted 06/14/2022 08:06 AM
Sharon Waller Knutson:
I love this poem because of the imagery and the interaction between the father and the daughter that shows what it's like to be and have a good dad. The title drew me into the poem but it's the description of the daughter that shows the close connection with her father in the first stanza that grabbed my heart and attention. "I push her around in that Little Tike and she screams with excitement, already long blonde locks twisting in my manmade breeze."
Posted 06/14/2022 07:58 AM
Angela:
Such a delightful moment between dad and child.
Posted 06/14/2022 07:36 AM
Larry Schug:
A tiny video with a poetic soundtrack. For sure, a story of love.
Posted 06/14/2022 07:02 AM