Who's going to pay for this?
asks my father as he picks up
a dripping foot-long hot dog.
I watch a yellow glob drip onto
his jacket and tell him I will pay
because it's his birthday. If I knew
you have that kind of money I
would order steak is his stock
reply. My son adds and many more
to the end of the birthday song.
My father stares at the floor.
After his favorite dessert, angel
food cake and chocolate ice cream,
I tell him I don't have enough
money to pay the check. He hands
me the same twenty-dollar bill
he has handed me for the last
five years, the bill I will put back
into his wallet, at home, after
I sponge off the mustard and
put him to bed.


This poem first appeared in the San Diego Union Times.
Used here with permission.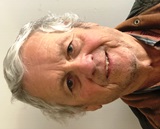 Ronald Lauderbach says he writes poetry to celebrate life and because he likes to play with language. A retired high school English and journalism teacher (he also coached Pony League, for 12- and 13-year-olds), he tries to follow the advice he gave his students: "If you write poetry that moves you, it will move others." Ron lives in San Diego, California.
Wilda Morris:
This rings so true!
Posted 06/16/2022 12:00 PM
Lori Levy:
Love the details and tone of this poem.
Posted 06/15/2022 10:15 PM
Jo:
A loving and tender poem.
Posted 06/15/2022 05:54 PM
peninsulapoet:
Terrific
Posted 06/15/2022 10:27 AM
Sharon Waller Knutson:
Wow! What a beautiful moving poem. I loved every word of it. I love the father's character and the loving ritual between father and son. Living to be 97 is quite a feat and to be celebrated. Love the dripping foot long hot dog with the glob of mustard and the father's stock retort: "If I knew you have that kind of money I would order steak."
Posted 06/15/2022 10:19 AM
cork:
I can't wait to reach 97 and have a birthday party and a hotdog.
Posted 06/15/2022 09:08 AM
Shoshauna Shy:
I love mention of that ice cream and angel food cake. Well done, Ron!
Posted 06/15/2022 09:08 AM
Darrell Arnold:
You are a special person, Ron. God Bless You. Caring for aged parent is no small job. That is love as love should be.
Posted 06/15/2022 08:48 AM
MatthewMiller:
What a wonderful poem!
Posted 06/15/2022 08:44 AM
Michael:
My eyes welled up too, Ron. I just want to make it to 97 . . . I would keep the twenty in my pocket . . . at 97 my sons can spring for the hot dog and mustard!! Well done.
Posted 06/15/2022 08:02 AM
suzanne:
This made my eyes well up.
Posted 06/15/2022 07:50 AM
Larry Schug:
Sentimental in the best sense of the word. I miss my dad.
Posted 06/15/2022 07:32 AM
Angela:
so endearing
Posted 06/15/2022 07:21 AM
Joan Luther:
Very sweet story. Thank you for the lovely words and sharing memories.
Posted 06/15/2022 07:01 AM
Rob:
Beautiful! Captures the lovely and humorous father/son relationship so well!
Posted 06/15/2022 05:26 AM