--After Jane Hirshfield's "I Saved an Ant Today"

It lay lifeless in the bowl of squirrel water on the patio
The plump black/yellow beauty for my dead critter collection
A proclivity that puts me on top of the cool grandma list

I grab a kitchen strainer to gently rescue the corpse
Recalling a 5-year-old grandson who ran
mid-game off the soccer field to see a run-over
baby rattlesnake I found by the road

But the bee tells me with sudden tremble of wings
that it isn't accepting the condition I've diagnosed
Causing disappointment to argue with conscience
It's clear what Jane would do
But maybe she doesn't have grandchildren who beg

to visit bug-eyed over found bodies of beetles, flies
cockroaches, roly-polies, ladybugs, butterflies, moths
grasshoppers and skeletons of mice and lizards
This natural introduction to death  
That isn't going to happen here says the faint buzz
from the cadaver turned Lazarus
So I turn it out onto a bed of grass

Yet only one wing works
which compels a mercy killing decision
The bee now dive-bombing the grass
like a bantam airplane bouncing before the crash
Its motor louder and louder
Propelled by the universal gear that powers life

I empower my role to play God by getting a glass of wine
Upon return the bee is nowhere in sight
Compensation for my collection's loss comes soon
with a knock at the door by granddaughters, 11 and 7
Who thrust smiles nearly as wide as the shoebox they hold
filled with a dead rat that would fit size 9 feet


This poem first appeared in Chiron Review.
Used here with permission.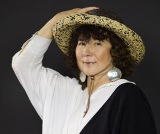 Photo by Alexis Rhone Fancher
Ellaraine Lockie grew up in a Montana farm town and writes at her local Starbucks every morning because it feels like one of the friendly coffee shops where she grew up, a place where everyone knew everyone else who came for coffee and camaraderie. Along with publications in the standard journals, Ellaraine's poems have appeared on broadsides, buses, rented cars, bicycles, cabins, greeting cards, key chains, bookmarks, mugs, coffee sack labels, church bulletins, radio shows and cable TV. Ellaraine serves as Poetry Editor for the lifestyles magazine, LILIPOH.
old_swimmer:
Lights Up My Heart! California Girl Here! Everyone tells me they are an "Earth Mamma" Here! This Babe Saving Even Insects Makes My Heart Sing! So, So Glad To Read Poems Where Sadness Does Not Rule!
Posted 06/28/2022 11:24 PM
Joan Luther:
What a great ending!
Posted 06/27/2022 01:16 PM
Lori Levy:
Great poem, love the humor. Brave, fun grandma!
Posted 06/27/2022 09:21 AM
cork:
The wine is sacramental!
Posted 06/27/2022 09:15 AM
paradea:
Good one!!!
Posted 06/27/2022 09:13 AM
Angela:
Such a delightful poem. I laughed out loud.
Posted 06/27/2022 08:58 AM
Sharon Waller Knutson:
"I Saved a Bumblebee Today" is adorable, clever and funny. Sounds just like this Montana girl rescuing God's critters. Love how she dumped the injured bumblebee in the grass and drinks a glass of wine rather than doing a mercy killing and then her grandkids show up with a dead rat in a box. I laughed out loud.
Posted 06/27/2022 06:46 AM