†
Staring up into this nightís sky,
among the scattered stars,
my tired eyes rest on the crescent moon.
†
That slim curve of light offers
a place to pin my hopes,
a reminder that even the
most narrow slice of light
can defeat all darkness.


© by Joan Leotta.
Used with the authorís permission.
†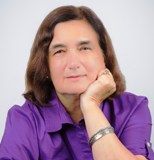 Joan Leotta lives in Calabash, North Carolina. A writer and story performer, her work is widely published and she is the author of multiple books, the newest being Feathers on Stone. On stage, Joan tells stories of food, family, and strong women. Learn more about her at www.joanleotta.wordpress.com.
KinVT:
Beautiful. Poignant
Posted 07/03/2022 05:49 PM
peninsulapoet:
Love this, Joan. Need it today.
Posted 07/03/2022 01:07 PM
Sharon Waller Knutson:
I was happy to wake up this morning to this sparse slice of wisdom from a poet i admire. I could see myself looking through Joan's tired eyes and seeing hope in a crescent moon. It's amazing how these few words could say so much: "even the most narrow slice of light can defeat all darkness.
Posted 07/03/2022 10:08 AM
Lori Levy:
Great image of hope in the crescent moon.
Posted 07/03/2022 09:48 AM
Wilda Morris:
A lovely slice of hope! Thank you, Joan.
Posted 07/03/2022 08:59 AM
Chwood:
Perfect timing. Thank you.
Posted 07/03/2022 08:02 AM