It happened in 1776,
When Hancock put plume to the page,
Jefferson, Franklin, and Adams in turn,
And 52 others, great men of the age.

Sweet independence from burdensome rule
By British oppressors afar,
Heavy taxation, unfair and unjust,
All promised to fight for that bright freedom star.

Each to the other did solemnly pledge
His fortune, his honor, his life,
And, oh, how they suffered, great hardship indeed,
But solid they stood through the pain and the strife.

Some went to prison, nine patriots died.
Redcoats burned their homes in the night.
John Hart lost his children, and others their wives,
Yet libertyís promise kept all in the fight.

Reliance on God gave them strength to endure,
Their shoulders in righteousness clad.
Not one ever weakened, not one broke his word,
Though many lost every last thing that they had.

Fifty-six men put it all on the line,
Their names and the lives that they knew.
Declaring their God-given right to live free,
Fifty-six heroes, brave men strong and true.


© by Darrell Arnold.
Used here with the authorís permission.
†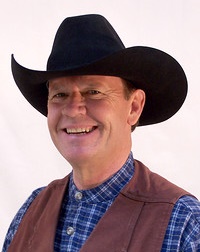 Darrell Arnold has been writing poetry for more than forty years. He was an associate editor at Western Horseman magazine for five years, then launched his own publication, Cowboy Magazine, which ran for nearly eighteen years. Poetry, primarily cowboy poetry, was an integral part of both publications. In the early '90s, Darrell started turning his poetry into songs and has now had more than 20 poems recorded by various western singers; two of them have earned song-of-the-year" awards from Western Writers of America and the Western Music Association. Darrell continues to write poetry and has extended an open invitation to cowboy singers everywhere to team up with him to make more memorable songs. For details and special pricing on his books, contact him at P. O. Box 3097, Colorado City, AZ 86021.
Jo:
its late in the evening, but I just read your wonderful poem and felt again the way I did as a kid where everything is possible in this great land we live in. Thank you.
Posted 07/04/2022 11:39 PM
Jancan:
This wonderful, patriotic poem is just what I needed!
Posted 07/04/2022 01:54 PM
Adriana:
terrific song
Posted 07/04/2022 12:25 PM
Lori Levy:
Sounds great put to music.
Posted 07/04/2022 12:22 PM
Wilda Morris:
It is even better when sung! Just google it and find a recording you can listen to! Thanks for sharing this.
Posted 07/04/2022 11:24 AM
Joan Luther:
Perfect words for the reason of this particular season
Posted 07/04/2022 10:19 AM
terrynashcowboypoet:
Great, well-crafted poem Darrell. Proud to call you pard. God Bless Amarica!
Posted 07/04/2022 09:49 AM
cork:
Hi Darrell, Your poetry and music was a great way for me to begin this Fourth of July morning.
Posted 07/04/2022 09:17 AM
paradea:
Happy birthday, America, and God bless us all!
Posted 07/04/2022 09:09 AM
Darrell Arnold:
God Bless America! She is worth preserving forever. And God Bless Jayne Jouden Ferrer. What a blessing she has been, and is, for us poets who labor so lovingly over our words, and try to be relevant.
Posted 07/04/2022 08:15 AM