because naturally upon entering
you lower your voice
because through branches on high
fluffs of fog drift
in shafts of sunlight
because youíve met this feeling
in cathedral, mosque, temple

because a redwood seems always
to know what itís doing

because your body feels small
because your spirit grows large

because a redwood with its power
will never preach
makes no demands
sips from the clouds
swallows the sunlight
shelters the chipmunk, the owl, you
because a redwood takes the long view

because the redwood withstands flame
has kinship to stone, to river and earth
to the patience of stars
to the holy

because you forgot the question
but a redwood grove
is the answer


This poem first appeared in Londonís Kew Gardens (2022).
Used here with permission.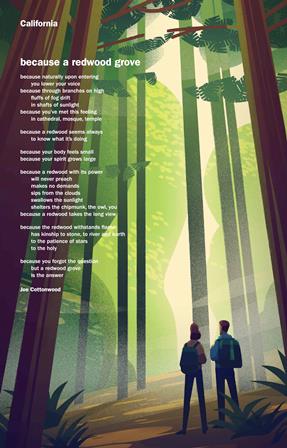 ††††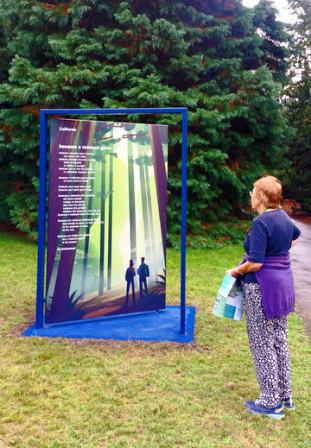 †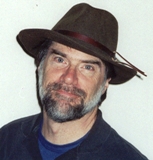 Joe Cottonwood is a semi-retired contractor with a lifetime of small jobs repairing homes. He lives with his high school sweetheart under redwoods in the Santa Cruz Mountains of California, caring for curly-haired dogs and straight-haired grandchildren. Joe's latest book is Random Saints. Learn more about him at www.joecottonwood.com.
mszlyk:
How wonderful that Kew Gardens now has a redwood grove that will be truly cherished -- and that Joe wrote this wonderful poem that we all cherish!
Posted 06/18/2023 08:17 AM
Wilda Morris:
Magnificent!
Posted 11/30/2022 11:52 AM
cscoville:
How marvelous that the poem first appeared in Kew Gardens!
Posted 11/28/2022 11:19 AM
Jancan:
Great use of personification
Posted 11/28/2022 12:33 AM
T R Poulson:
Gorgeous tribute to a beautiful tree
Posted 11/27/2022 11:26 PM
Michael:
This is stunning, Joe. Truly a masterpiece.
Posted 11/27/2022 10:14 PM
CamilleBalla:
Ditto to Stephen. wordless here.
Posted 11/27/2022 12:19 PM
Lori Levy:
Every line is powerful in this beautiful poem.
Posted 11/27/2022 11:56 AM
Arlene Gay Levine:
An uplifting ode of admiration for one of Nature's many splendid creations.
Posted 11/27/2022 11:53 AM
peninsulapoet:
Always a pleasure to read a Joe Cottonwood poem--a window into a deeply kind and observant soul.
Posted 11/27/2022 11:51 AM
paradea:
Fantastic!!!
Posted 11/27/2022 10:53 AM
cork:
Speechless!
Posted 11/27/2022 10:15 AM
Darrell Arnold:
Joe has it right about Redwood cathedrals. Man-made cathedrals are magnificent, of course, but they don't stand up to the awesomeness of God's natural cathedrals -- Redwood groves, Sequoia groves, Carlsbad Caverns deep beneath the surface of the New Mexico earth, or Colorado's Medano Lake, set high, above timberline, in a cirque surrounded by towering peaks. When you are there, you know they are "the answer." What a poem!
Posted 11/27/2022 09:43 AM
RonPoems:
Great poem. I especially like the open ending. It reminds me of days, as a young traveling salesman, when I would go to the Jedediah Smith Park, near Crescent City, CA, to meditate and forgive lying customers.
Posted 11/27/2022 09:36 AM
Laura34108:
Fantastic poem! The next time I'm in London, I'll definitely visit Kew Gardens. Hopefully I'll get to visit the magnificent redwoods in CA again, too.
Posted 11/27/2022 08:40 AM
Wilda Morris:
What a magnificent poem!
Posted 11/27/2022 08:35 AM
Stephen Anderson:
Thanks for giving us this awesome special communion with the Redwoods in all their majesty. A beautiful poem, Joe!
Posted 11/27/2022 08:28 AM
Angela Hoffman:
Upon entering you lower your voice-right from the beginning I sense the sacred.
Posted 11/27/2022 08:09 AM
Sharon Waller Knutson:
I am not surprised that Joe Cottonwood was commissioned by Londons Kew Gardens commissioned Joe to write a poem honoring their amazing redwood forest because not only is Joe one of my favorite poets but he has a special relationship with nature. My favorite image is: a redwood with its power will never preach makes no demands sips from the clouds swallows the sunlight shelters the chipmunk, the owl, you because a redwood takes the long view.
Posted 11/27/2022 07:38 AM
ladyleo191:
This is the exact emotion I feel upon visiting Redwoods here in the U.S. but I was never able to express it. I am thankful the poet understands.
Posted 11/27/2022 06:55 AM
Nicholas:
"Because a redwood ...sips from clouds ..." Wow, great image in what is such a comforting poem. Let's plant a trillion trees today and save the planet.
Posted 11/27/2022 05:26 AM