I love to watch the falling snow
as it comes down, not fast, but slow,
and when a flake sticks to my mitten,
I lick it off just like a kitten.


© by C.F. Kelly.
Used with the author's permission.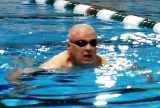 Cornelius Farrell Kelly lives in Pinedale, Wyoming, with his wife of 60+ years, in a house they built with the help of their ten children at an altitude of 7300 feet above sea level. The author of eight chapbooks and two published books, he writes a rhyming couplet every morning and posts it on his Facebook page. Cork is a competitive senior swimmer (he says he frequently gets ideas for a poem while swimming) and last October, he participated in the Huntsman World Senior Games.
Anastasia:
Kittens know how to enjoy lifethey are good role models!
Posted 05/15/2023 08:41 PM
KevinArnold:
Way too long! (just kidding, great fun)
Posted 01/12/2023 02:12 PM
carlpalmer:
Picturing you wearing mittens, Cornelius, is that a Wyoming thing? Sweet little poem.
Posted 01/12/2023 01:49 PM
Janice Galt:
I like the daily effort he puts in. A fine practice!
Posted 01/12/2023 12:47 PM
Wilda Morris:
How fun!
Posted 01/12/2023 10:48 AM
Larry Schug:
What more do you need for a good poem? Thank you, swimming man.
Posted 01/12/2023 07:42 AM
mail@schoolbusmart.com:
cute! Randy Mazie
Posted 01/12/2023 07:42 AM