On the side of the truck that turns
in front of me at the Village Green Mall
is written " Broken Heart Plumbing, We Fix Everything."
I take it as a sign.
Inside the liquor store
I see a procession of broken hearts
being fixed by Jack Daniels and Merlot
at two in the afternoon.

At the airport, I'm on the lookout
for Esther Williams, whose name
is repeated over and over by the WestJet gals.
I want to see her swimming in,
a garland of roses in her hair,
wearing a pink bathing suit,
covered in broken hearts,
feathers, pitch.
Which would fix everything:
plumbing, the long day,
the two o'clock boozers,
lost luggage,
the broken world.
© by Wendy Morton.
Used with the author's permission.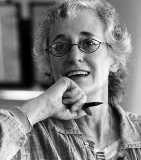 Wendy Morton believes that poetry is the shortest distance between hearts. She has five books of poetry, and a memoir, Six Impossible Things Before Breakfast, in which her adventures as a corporate sponsored poet are revealed. Her latest book of poetry, What Were Their Dreams, is a book of photo-poems of Canada's history. Wendy is the founder of Canada's Random Acts of Poetry, now in its seventh year, and is the recipient of the 2010 Spirit Bear Award and the Golden Beret Award. For her day job, Wendy has been an insurance investigator for the last 28 years. She lives in Sooke, B.C. and is a raven watcher. Learn more about Wendy here.
Buckner14:
Many, MANY thanks for introducing us to Wendy Morton. What a treasure she is! Random Acts of Poetry--I'd love to see it become an international holiday.
Posted 10/02/2010 09:13 AM
Upright Fence:
Merciful Heavens ! Where did THIS come from? Wonderful! More, more!!
Posted 08/18/2010 12:57 PM
Paloma Bergdorf:
You Go Girl!! Agree w/Nancy B. this is a wonderful new poet .. let's see more of her terrific stuff as soon as it's ready! Paloma B.
Posted 08/18/2010 12:32 PM
3bulldogs:
she's a keeper! do try to get hold of her little memoir, "Six Impossible Things Before Breakfast." it's oh so much fun and truly inspiring. love her quirky mind! nancy bardos
Posted 08/09/2010 12:17 AM
Reganz:
Thanks to this poem being posted, I've found a new place to visit for inspiration and a daily poem. I heard Wendy Morton read a poem on a WestJet flight about five years ago, and she is the reason I now read and write poetry. In addition to her poems, her generosity and boundless energy in bringing poetry to unexpected places have literally changed my life. I'm delighted to have discovered Your Daily Poem and look forward to Jayne's offerings. Thanks!
Posted 08/08/2010 11:10 PM
anngrahamwalker:
Thank you for posting one of my favourite poets and one of my favourite people. Wendy's mission to poetry is to bring it forward where it can really make a difference. I have huge admiration for her.
Posted 08/08/2010 08:43 PM
Manfred Manzhanger:
Bravo! Real Poetry plain as day! Kudos to the Lady & to YourDailyPoem.com for discovering her brilliant talent. Some of the lines took me back to my youth and Rilke. Excellent.
Posted 08/08/2010 06:11 PM
Grissom Phigg:
I'd recognize Wendy Morton's magical mystery cadences anywhere -- remember her stargazer lillies? Her Mr. Balloony high above the chimneytops in his lawnchair? Wonderful stuff -- where have you guys been hiding her? Let's get her poems in here as often as we can.
Posted 08/08/2010 05:31 PM
Arlo Bean:
I agree completely, Ms. Taliaferro -- this is a gentle, wry, poet's poet at work; completely enjoyable and, as the headline maintains, not one bit boring. One does get a whiff of modest disapproval for daytime dipsomania; not a common stance among the lyrical literati, but maybe that's just part of the poem's surprising charm.. Let's see some more from Morton!
Posted 08/08/2010 04:36 PM
Virginia Taliaferro:
What a wonderful poem! Please; more like this. Haven't heard of this lovely poet before but I'm going to make up for it in a hurry. In the meantime, keep 'em coming!
Posted 08/08/2010 03:59 PM