She loves West Tenth Street on an
ordinary summer morning.
(Michael Cunningham, The Hours)
And I love this ordinary summer afternoon,
sitting under my cherry tree full of overripe fruit,
too much for us to pick, an abbonanza of a tree,
I love this dark grey catbird singing its awkward song,
and the charcoal clouds promising rain they don't deliver.
I love the poem I've been trying to write for months,
but can't; I love the way it's going nowhere at all.
I love the dried grass that crackles when you walk on it,
leached of color, its own kind of fire.
Way off in the hedgerow, the musical olio of dozens of birds,
each singing its own song, each beating its own measure.
This is all there is: the red cherries, the green leaves,
sky like a pale silk dress, and the rise and fall
of the sweet breeze. Sometimes, just what you have
manages to be enough.

From Radiance (Word Press, 2005).
Used with the author's permission.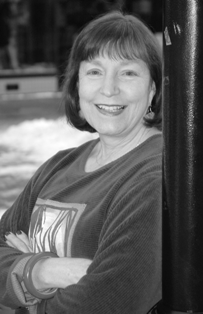 The author of more than 600 poems published in nearly 2000 anthologies, books, and magazines, Barbara Crooker is the recipient of numerous awards, residencies, and fellowships. A twenty-six time nominee for the Pushcart Prize, she is the author of ten chapbooks and three full-length books, including Line Dance, which won the 2009 Paterson Award for Literary Excellence, and her latest collection, More. Barbara credits her achievements to perseverance as much as talent, and says, ?Writing poetry is not putting down whatever comes into your head, and leaving it at that, never taking it any further. Poetry involves layers, and a lot of revision." Read more about her at www.barbaracrooker.com.
jonasbaltakis:
What a gorgeous poem. It reminds me of the most serene aspect of being at peace with solitude: being able to just appreciate all that you already have. Beautiful.
Posted 10/31/2020 03:24 PM
Poe Boisand:
Reminds me of Grissom Phigg's "If you haven't got anything, be thankful for what you've got", and it certainly does resonate through the days following a first reading.. beautiful, it its way..
Posted 08/20/2010 05:07 PM
sillygirl:
I Love This Poem. It just sits with me like a friend, reminding me of the everyday miracles. The last bit comes back to me at odd times during the day, reminding me that i can be content with the pre-kindergarden craziness and the life in flux going on all around me, reminding me that i can take a minute and enjoy this amazing thing called life, no matter what. Bravo!
Posted 08/17/2010 06:42 AM