First, you should know
this is not a poem for summer.
This poem is for the darkest winter hours,
near Solstice, I should think.
Not for tonight, when swallows
are chasing each other through the sky,
and reckless seagulls are climbing
those tall ladders of clouds.
Not for tonight, when flowers and weeds
are all blushing rose, when the sun is sinking
into a featherbed of gold, purple-clad
paramours dancing attendance.
Pull out this poem when the first
blast of nor'easters hits,
when you're trying to recall warm,
the smoky voice of that jazz lady
up there on the stage tonight,
the orange light shining between us.
Save a couple of Summer Shandy ales,
and stretch out with them by the fire,
on that blanket with old burn marks
and wine stains in the shape of roses.
Forget that another year is gone.
Forget what lies ahead.


© by Sharon Auberle.
Used with the author's permission.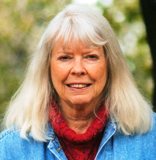 Sharon Auberle is the author of two books, Saturday Nights at the Crystal Ball: a Memoir in Poetry (currently out of print), and Crow Ink, a collection of her poetry and photographs. She is venturing into the world of recorded word, via a CD, Something After Burning, with music backup provided by some of Door County, Wisconsin's finest musicians. The poems are taken from her book by the same name, to be released in the fall. The CD is available, for $12 plus $3.50 S. & H., from the author at P.O. Box 701, Sister Bay, Wisconsin 54234. When not doing any of the above, Sharon tramps the woods near her home in pursuit of the chanterelle mushroom, which she says is having a bumper year. Learn more about Sharon here.
dotief@comcast.net:
Once I was on a Bateau Mouche on the Seine in Paris, and I was so cold up there on the top deck in the early spring chill, I thought I would turn to a block of ice. I certainly could have used this poem to warm the hollows of my being. Wonderful!!!
Posted 08/16/2010 08:44 AM
phale2:
I really liked this poem.
Posted 08/16/2010 08:33 AM