On this ominous summer afternoon
I've had my fill of Florida,
My fill of alligator-friendly heat,
Of red weather
Bursting from the TV screen
Into a dark angry clot
Over our fail-safe houses
And alien lawns—my fill
Of violent venereal rain
Fueling the overgrowth
And overbuilding, the excess
Of Paradise paved over.

On this ominous summer afternoon
Lightning flashes
In diabolical sync
With the signs on Tamiami.
Inside my conditioned
Condo cocoon, outages blink
Off and on, off and on,
Urging me to evacuate
Before the unborn mosquitoes
Get to beat their wings
And the mouth of red weather
Swallows us whole

© 2007, Joseph Pacheco
Used with the author's permission.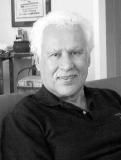 Joseph Pacheco is a retired New York City school superintendent living on Florida's Sanibel Island. A national prize winning poet at age eighteen, he wrote no poetry for the next fifty years, but the joys of retirement life re-awakened his muse. Joseph's poetry has now been featured on National Public Radio's Morning Edition, Latino USA and WGCU, and he has performed at New York City's famous Bowery Poets and Cornelia Street Cafés. Joe is past president of the Southwest Florida Hispanic Chamber of Commerce, a member of WGCU's Public Media Advisory Board, writes a column for the Sanibel Islander, and his poetry has appeared in English and Spanish in the News-Press and its Spanish language weekly, Gaceta Tropical. He is co-founder of ArtPoems and, in 2008, received the Literary Artist of the Year award from Alliance for the Arts. Joseph celebrated his 80th birthday in July of 2010.
elcortes01:
felicidades, amigo mio...hasta muy pronto para platicar en persona de poemas, de palabras... abrazos, lydia
Posted 08/19/2010 05:41 PM
Efrain Salmon:
Te felicito, Joe. Es un poema muy bueno. Un fuerte abrazo, Efraín
Posted 08/19/2010 02:46 PM
Buckner14:
Splendid poem! I especially admire these lines: ...the overgrowth And overbuilding, the excess Of Paradise paved over. And as someone near your age, I admire your lively literary life in the "golden" (sometimes tarnished) years.
Posted 08/19/2010 09:20 AM
dotief@comcast.net:
I live in North Florida, and lately we are feeling this poet's pain. We are all ready for even one burst of dehumidified cool air. Would do us a world of good.
Posted 08/19/2010 08:24 AM