A boy told me
if he roller-skated fast enough
his loneliness couldn't catch up to him,
the best reason I ever heard
for trying to be a champion.
What I wonder tonight
pedaling hard down King William Street
is if it translates to bicycles.
A victory! To leave your loneliness
panting behind you on some street corner
while you float free into a cloud of sudden azaleas,
pink petals that have never felt loneliness,
no matter how slowly they fell.
From Fuel (© BOA Editions, 1998).
Used with the author's permission.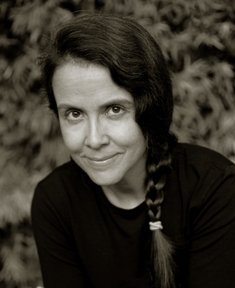 Naomi Shihab Nye was born to a Palestinian father and an American mother. She has lived in Jordan, Jerusalem, and San Antonio--where she currently resides. Naomi travels the world promoting peace, love, and joy through poetry; this summer she's been at the Hotel Bleibtreu in Berlin, Germany, working with the LiteraturRaum project. Nye is the author of numerous books of poems, the most recent being Time You Let Me In, 25 Poets Under 25, from Greenwillow Books.
Katrina:
This reminds me of the following song: http://www.ladyjayes.com/alreadycrazy.html "I keep turning corners to keep the pain that follows me confused. . . I'm talking to myself do I don't hear his voice on every wind that's blowing . . ." I wonder how much music we can imbue into words.
Posted 08/18/2010 05:39 PM
dotief@comcast.net:
This is indeed a powerful poem! I love the notion that you can ride away from loneliness or any other emotion, leave it "panting on some street corner." And, Jayne, you are right about the "cloud of sudden azelias." Absolutely wonderful!
Posted 08/18/2010 08:00 AM