Virginia Woolf once said we all need a room of our own.
Perhaps not a room but, 
     most definitely, 
          a place—
"where neither moth nor rust doth corrupt,
where thieves do not break through nor steal."
A heaven on earth,
     if you will—
          a revitalizing place to retreat
               when frustration and fatigue 
               close in like hungry vultures,
someplace where there isn't any trouble,
someplace where your heart is nourished,
someplace where your soul is fed,
          someplace that feels like Home.
My place is
     my mother's back porch, at dusk—
          mist nuzzling the brown cows
          in the pasture sprawled green and lush 
     at the foot of a mountain . . .
          tree frogs singing rounds with cicadas,
          their vibrating chorus
     an aural yin and yang account of
          events of the day.
And as the last pink streaks of sky ebb to grey,
     the firefly light show commences—
          yellow polka-dots flashing lazily
          like coy lanterns 
               dancing in the darkening stillness.
Find your retreat, my darling,
     that place of escape and 
          assured restoration
     that will set you free, 
          make you whole,
               take you home.
We mothers worry about so many things—
            are you safe? satisfied?
            are you happy? are you loved?—
but we worry less if we know
     that wherever life leads,
     whatever it brings,
there's a place you call Home
     in your heart.
 
From Dancing with My Daughter (Loyola Press)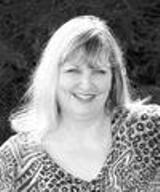 Jayne Jaudon Ferrer is the author of four books of poetry that focus on family life, including the now classic A New Mother's Prayers, which has remained in print for more than twenty years. An award-winning copywriter and freelance journalist earlier in her writing career, Ferrer is a native Floridian who now lives in Greenville, South Carolina. She speaks frequently at women's and book events and her work has appeared in numerous publications ranging from Boca Raton Magazine to Christian Parenting Today. Learn more about her at www.jaynejaudonferrer.com.
Autographed copies can be ordered at www.magnoliatrappings.com.
anndeupree:
This poem truly speaks to me, Jayne. We lived in Sylva, Asheville, & Hendersonville and loved being in those precious mountains. I didn't know you lived right down the road in Greenville; what a fabulous art museum you have there. Thank you for your story poem. I remember a night in Sylva when a whole huge tree was lit with fireflies. Ann
Posted 08/24/2010 04:15 PM
Katrina:
I love the shape and pace of this poem. Actually I didn't notice how long it was until I had finished reading it. The 'firefly light show' was the star attraction for me. Thank you!
Posted 08/24/2010 03:15 PM
greenmilsted:
LOVE IT!!! It is sad when a place that gives us that feeling of being refreshed is only in our memory. It is important to make or find NEW places called home as we move through life!! THANKS Va.
Posted 08/24/2010 09:40 AM
dotief@comcast.net:
How wonderful, Jayne. I got to see the lightning bugs of North Carolina a few weeks back. Magnificent! So is your poem!
Posted 08/24/2010 08:21 AM
Anjie:
I love it, Jayne! "but we worry less...if we know there's a place you call Home in your heart." Amen!
Posted 08/24/2010 07:55 AM