No big epiphanies, 
but smaller things
I'm more aware of:

moths that call the
porch light a party,
my dogs asleep on

pillows beside me,
their sleepy breath
warm on my hand;

and this morning a
neighbor child
balanced on her knees

where the crook of
the apple tree flattens.
Hands outstretched,

she sings what she
knows from Handel's
Messiah ? alleluia,

alleluia ? again and
again, her woodwind
voice through branches

and just as high, that
much closer to God ?
the sky in her arms.


This poem first appeared in Lips (Issue 30/31).
Copyright © 2010 by Adele Kenny.
Used with the author's permission.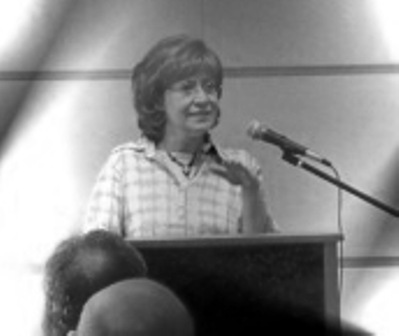 Adele Kenny is the author of 24 books (poetry & nonfiction). Her poems, reviews, and articles have been published in journals in the U.S. and abroad and in several anthologies. She is the recipient of various awards and fellowships from the NJ State Arts Council, and her new collection of poems, What Matters, is scheduled for publication in Spring 2011. Adele maintains an active schedule of readings and workshops, directs the Carriage House Poetry Series she founded in 1998, and serves as poetry editor of Tiferet. An animal lover, she has raised three Yorkshire Terriers (Dylan, Yeats, and Bijou), and numerous exotic birds. To learn more about Adele, or to receive her weekly poetry prompts,visit http://adelekenny.blogspot.com/ or http://www.adelekenny.com/.
Katrina:
I love this. The gregarious moths and haunting snthem immediately communicate.
Posted 08/29/2010 04:39 AM