I've cycled through quite a few roommates.
Living with Love was okay,
but I was always sacrificing time,
neglecting my friends,
giving up this for Love,

giving up that for Love;
"You'd do it if you loved me" was her favorite quote.
I was glad when she was gone.
Sad saw her leave and moved in soon after;
I understood Sad,
why he never went far from the house,

he's the one who introduced me to Depression.
Depression loved my place.
He'd already heard from Love that I
was looking for another roommate.
Depression's one of those house guests who
just needed to crash for a few days,
then it turned into a few weeks, and
now his mail comes here;

he's making no signs of leaving.
He never wants to do anything,
but his half of the rent is always on time.
Depression told me he made a new friend at work;
Suicide, said she was stopping by later,

he thought I should meet her.
He thought we'd like each other,
that we'd be good together.
We have a lot in common,
'cause we're both looking
to get away for a while.
She showed up about three in the afternoon,
relaxed, scary relaxed: a dandelion
poised for decapitation and still soaking up the sun.

She knew Sad from a few years back;
she has known Depression for some time now.
Suicide even knew Love,
they had met, but only in passing.

Suicide slides in the door slow and sure,
arms open to me to embrace like old friends
turned new lovers.
She was so sure of everything.
I stood in the kitchen in her arms,
nervous then strangly calm.
I felt weak, like I could give up, and that was okay.
We went away for a while,
I left a note on the fridge:
"I'm not sure I'm coming back but,
anyway, it's your turn for the dishes."

Copyright 2009 by Aaron Gay.
Used with the author's permission.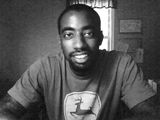 Aaron Jerome Gay grew up in a small town in southern Virginia. He first started writing as a child, composing what he calls "love letters to no one." In eighth grade, he discovered poetry and has been writing poems ever since. Now back in school after several years of military service in Thailand, Aaron looks forward to establishing himself in an active writing community.
poetess:
Keep writing Jerome. This poem is powerful and profound. Have you seen the Goodreads website? It is really good for posting poetry and critiquing. Good luck to you. I really enjoyed this poem.
Posted 08/31/2010 09:15 PM
Cecelia Gay:
One of the best I have read...What a mirror to soul in this meaningful dialogue of self analysis and personal responsibility. Who could not identify with this at some point in their life? The ending is perfect. Great job. Since our last names are the same want everyone to know this isn't his mother writing but I would be very proud if I were. Cecelia Gay
Posted 08/30/2010 10:27 AM
Linda Lee Konichek:
Wow, powerful images used in an amazing way! A very moving, unforgettable poem. Linda Lee
Posted 08/30/2010 08:56 AM
fjbergmann:
And regarding who's addressed in the note on the fridge at the end of the poem, it's the last roommate, Depression, who introduced the narrator to Suicide.
Posted 08/30/2010 08:35 AM
fjbergmann:
I'm in Los Angeles, handling the affairs of my sister Lissy, who killed herself a week ago. This is a marvelous poem.
Posted 08/30/2010 08:23 AM
dotief@comcast.net:
Extremely good use of personification, especially in conjunction with the powerful imagery. The only confusing element was the last line. Who does the poet address? Who is the unnamed entity watching? The one whose turn it is for the dishes? I thought it might be more clear if it were Love's turn for the dishes--or even "it's not my turn for the dishes." Still, I loved the overall power of the piece--its unsettling message of hopelessness that makes a person seek oblivion. Wonderful!
Posted 08/30/2010 08:17 AM
bpdethlefsen:
Smart, sensitive and shockingly cool.
Posted 08/30/2010 07:25 AM