For my granddaughter, Alice Rose
On cinnamon nights
Under the glow of chutney-scented candles
We'll drink cocoa and coffee blessed with pumpkin spice
While we read story after story
And write books of our own

On cranberry days
We'll pull on turtleneck sweaters
Over wool plaid skirts that don't touch our knees
And as the open-armed dervish leaves spin free from the branch
We'll eat golden apples covered in sticky red candy
To toast the ending of the year and make our mark
The way the souls of fallen brown leaves fix their imprints on concrete

When bluster white days fill a gray canvas sky
January's gift will be
The diamond trees that sparkle after a snowfall
We'll hold our hands up to them
And applaud with thick woolen palms coated in icy glitter

On the pastel petal mornings of lengthening days
The transformation of moist brown to supple green
Will dare us to abandon outer layers too soon
And celebrate the chill with the first brave flowers
Whose colors will be rivaled by none that bloom after them

On salty blue afternoons that dissolve into smooth orange evenings
When the river top swirls with bouncing light
We'll peek down through saffron curtains to the gardens below
And dance like the velvet purple cosmos swaying on stilt stems
While crystal winged cicadas perform their thousand-year-old folk songs
Before zigzag fireflies take the stage in a twilight sky
And sleep tugs at your eyes
And your head gives in to the jasmine scented pillow
While silver moon glow waits to surround new dreams
© by Siobhán Barry-Bratcher
Used with the author's permission.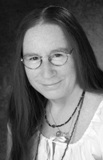 Born in Brooklyn, New York in 1954, Siobhán Barry-Bratcher writes about everything because she believes there are no boring subjects. Irish figure skaters, city dwelling possums, Jerry Garcia's artwork, recalcitrant old houses, and mornings in small towns are just a few of the topics she has covered in her poetry, prose, articles, and screenplays. Siobhán is the author of two books, Brushstrokes: A Work In Progress, a memoir about growing up in Brooklyn, and Golden, a young adult historical novel set in the late 1960s. She is currently the co-host of the monthly Spoken Word Series at the DeBaun Center for the Performing Arts on the campus of Stevens Institute of Technology in Hoboken, New Jersey. Siobhán resides with her family in Hudson County, New Jersey.
There are no comments for this poem yet.