after the painting by Vincent van Gogh
From fields lush with wheat
they rise up, those old black
sorrows, crying out my name,
taking pleasure in it too. Like the stiff
straw men abandoned there,
coming unhinged, they flap
and stir the chaff to storms
of golden dust. What crooked rut
is this that wanders, a little green,
into the grain toward
the squawking of crows?
Even when I believe I've left
the world's restless errands behind,
an agitation follows me.
In this incandescent world
the sky comes roiling closer,
bearing again its difficult night.

From Under the Porch (Hill-Stead Museum, 2010), winner of the Sunken Garden Poetry Prize.
This poem first appeared in Eclipse (2009).
Used here with the author's permission.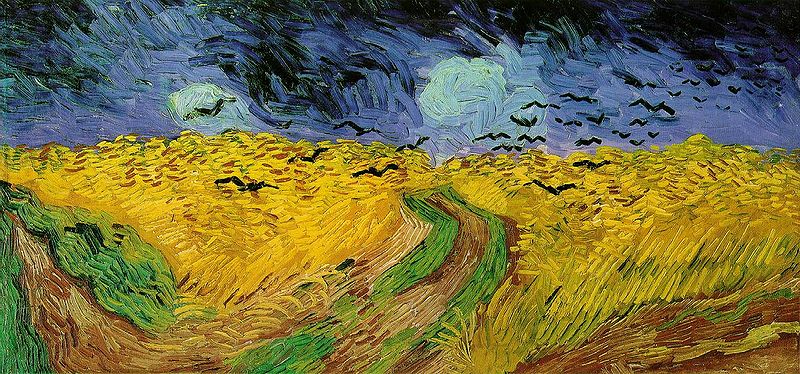 "Wheat Field with Crows," by Vincent van Gogh. Oil on canvas created in 1890. Displayed in the Van Gogh Museum in Amsterdam.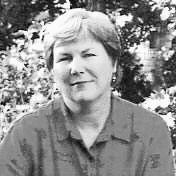 Ginny Lowe Connors is the author of Barbarians in the Kitchen (Antrim House Books, 2005) and editor of three poetry collections, including Proposing on the Brooklyn Bridge (Grayson Books, 2003). She has won numerous awards for her poetry, including the grand prize in Atlanta Review's International Poetry Competition. One of her poems has been nominated for a Pushcart Prize.
An English teacher in West Hartford, Connecticut, Connors was named ?Poet of the Year" by the New England Association of Teachers of English a few years back. Her poetry appears in many literary magazines and anthologies.  
Buckner14:
splendid painting, splendid poem!
Posted 09/01/2010 01:44 PM
jennerandrews:
Beauteous poem-- rich, open-hearted! Jenne' R. Andrews http://loquaciouslyyours.com
Posted 09/01/2010 11:44 AM
sandpeg:
"Those old black sorrows...." In Ginny Connors' wonderfully sculpted poem, we are all just one degree of separation from the haunted artist. WOW!
Posted 09/01/2010 10:21 AM
Nabby Dog:
This is a beautifully constructed poem. I especially love how the poem "turns" with the question midway through, then opens to poignant soul searching, and concludes with that unsettling allusion to the "difficult night." I admire the poem's obvious craft and I'm touched by its subtle yet powerful message. I know I will be thinking about this poem all day.
Posted 09/01/2010 08:09 AM
dotief@comcast.net:
I think this was the last painting Vincent van Gogh painted before he killed himself. Makes Conner's poem all the more poignant.
Posted 09/01/2010 07:41 AM