Hushed in the smoky haze of summer sunset,
When I came home again from far-off places,
How many times I saw my western city
Dream by her river.
Then for an hour the water wore a mantle
Of tawny gold and mauve and misted turquoise
Under the tall and darkened arches bearing
Gray, high-flung bridges.
Against the sunset, water-towers and steeples
Flickered with fire up the slope to westward,
And old warehouses poured their purple shadows
Across the levee.
High over them the black train swept with thunder,
Cleaving the city, leaving far beneath it
Wharf-boats moored beside the old side-wheelers
Resting in twilight.


This poem is in the public domain.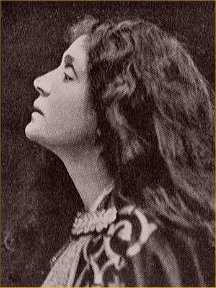 Sara Teasdale (1884 - 1933) was a Missouri-born poet afflicted with poor health from birth. She loved one man but married another, divorced, lost her best friend to suicide, and eventually committed suicide herself. Ironically, a majority of her poems are about love and beauty, and she won the first Pulitzer Prize for poetry in 1918. There are some similarities to be drawn between Sara and Emily Dickinson; both were reclusive, both wrote intensely personal poetry that frequently focused on nature, both knew unrequited love.
dotief@comcast.net:
I spent the 1st 7 years of my life in East St. Louis. I lived on a high rising area called Signal Hill, because it was where Native Americans used to burn their signal fires. And Teasdale does capture the grandeur of the vistas of that place--the Gateway to the West. It seemed that when I gazed West from the high point of my old neighborhood, all of America stretched endlessly before me. I can still see it dazzling in the sun.
Posted 09/08/2010 08:25 AM
Buckner14:
I've always thought Teasdale was underrated. THis poem provides more evidence of her excellence.
Posted 09/08/2010 07:17 AM