She keeps the bat off her shoulder,
concentrates on the pitch, 
waits, measures its speed,
isn't fooled by any fakery
in my windup, nails it,
drives it hard over the neighbor's fence—
and I'm happy as any father
can be: She has a good eye,
loves the feel of making contact, 
the sound, the resonant movement
of the world driven deep. 
When we play catch she lacks control,
especially when she wings it, 
trying to put some real speed on the ball;
she's just like her father, and the reason 
I played right—good catch, lousy throw
to second or third.  So I wonder how
she'll do in a game, but when the ball
jams into the gap, she runs it down,
whirls, takes a step and throws it—
a sharp, hard liner that goes back 
the same way it came out, and the girl
playing second doesn't have to move
the target of her glove; she tags the runner
for an easy out:  And I think
how my daughter throws like a girl—
my girl—with an arm like spring steel.


From Far From the Temple of Heaven (Black Moss Press, 2005).  
Used with the author's permission.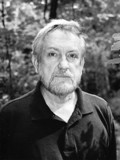 Dale Ritterbusch writes poems about baseball and other sports. Reflective of his strange psychology, he is a fan of both the Vikings and the Packers. He is the author of Lessons Learned, a collection of poems on the Vietnam War and its aftermath, and Far From the Temple of Heaven. He is Professor of Languages and Literatures at the University of Wisconsin-Whitewater and served as Distinguished Visiting Professor at the United States Air Force Academy in 2004-05.
Dale also has poems in these books:
There are no comments for this poem yet.