As you dash about, I admire how
Straight, crisp and lean you look;
And whether before, after, or between
Your words, phrases, and clauses—
You create bold—almost brash—pauses.
Your sharp, double-sided sword either
Interrupts, explains, or provides a crisp refrain—

Your more subdued and delicate cousin Comma,
More delicately shapes her conversational stance.
With a classic hook, an almost unstated elegance,
She crooks her tiny tea cup drinking finger and smiles,
While you slash and grin like a pirate defending his men.
On all matters of meaning, movement, and patterns.
© by Sandra Ridpath.
Used with the author's permission.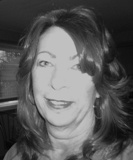 Sandra Ridpath (1951 - 2012) was a beloved English teacher in Aston, Pennsylvania, who enjoyed cooking, gardening, home decorating, and animals. An avid reader, in retirement, she worked as a freelance editor.
Allen:
Delightful in content and form. Thank you, Sandra, for the homage to my favorite form of punctuation.
Posted 09/24/2010 06:03 AM