Lying in bed this morning
you read to me of continental drift,
how Africa and South America
sleeping once side by side
slowly slid apart;
how California even now
pushes off like a swimmer
from the country's edge, along
the San Andreas fault.
And I thought about you and me
who move in sleep each night
to the far reaches of the bed,
ranges of blanket between us.
It is a natural law this drift
and though we break it
as we break bread
over and over again, you remain
Africa with your deep shade,
your heat. And I, like California,
push off from your side
my two feet cold
against your back, dreaming
of Asia Minor.


From Aspects of Eve (Liveright, 1975)
Used with the author's permission.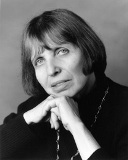 Linda Pastan grew up in New York City, graduated from Radcliffe College, and received an MA from Brandeis University. She has published 12 volumes of poetry, two of which have been finalists for the National Book Award. Linda's poems have appeared in many journals, including The Atlantic Monthly, The New Yorker, The Nation, and The Georgia Review. She has been Poet Laureate of Maryland, and in 2003 won the Ruth Lilly Poetry Prize for lifetime achievement. Linda lives with her husband in Potomac, Maryland; they have three children and seven grandchildren.
Jo:
A wonderful poet, the one who got me interested in writing poetry. A thrill to see her name on your site.
Posted 09/27/2010 05:40 PM
Buckner14:
Pastan is absolutely among the two or three top poets in the country. I'm waiting for the powers-that-be to name her U.S. Poet Laureate, a position she richly deserves.
Posted 09/26/2010 01:35 PM
wendy morton:
This exquisite poem: in its spareness she makes a whole world. Wendy Morton
Posted 09/26/2010 11:04 AM
Julianne Carlile:
I know I read this poem before. It must have been in college.
Posted 09/26/2010 07:47 AM
Donal Mahoney:
It is simply wonderful to see Linda Pastan on Your Daily Poem and to see the quality of the poem presented today. It is my hope that her appearance will attract more poets of her caliber to the site. Donal Mahoney
Posted 09/26/2010 06:46 AM