Her freckled grin flashes
as she shucks Indian corn–
the cobs fall into metal pots.

Distance draws her
in morning's cornfields–
calm she is, like an auburn river.

Her anticipation is evening
dancing, blue-blushing in sprinkled lights–
her shadow moving on silo walls.

Where is she if not caught here
in rough roadside taverns–
where if not singing laments of love?

In myriad hay mows she hides,
and she gleans her well-worn repetition–
in anger's slow, dry harvest.

© 2010 by Gary Busha.
Used with the author's permission.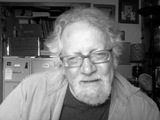 Gary Busha is a Wisconsin native who likes that state's changing seasons. His poetry--lean and plain-spoken, with themes of nature and lament--is strongly influenced by his good fortune in having grown up on Lake Winnebago. A poetry chapbook publisher for many years, Gary has three chapbooks of his own, which he claims are the better for having studied such a wide range of poetic styles over the years. Gary and his wife Linda have been married more than forty years and have two adult daughters.
mikeygeorge:
What a beautiful poem, by one of Wisconsin's finest poets
Posted 10/05/2010 06:22 PM
Julianne Carlile:
I really like the imagery in this poem. Very beautiful.
Posted 10/04/2010 06:19 AM