The book of Fall has opened,
     its leaves dry, cracking

each spread a cacophony of color
     mountains pixelated yellow, magenta

horizontal spines
     of still lake and sky, cyan saturated

the climax, the falling away
     trees mostly bare,
     a breath held
     before winter's bright black and white.

This poem first appeared in Echoes Across the Blue Ridge (Winding Path Publishing, 2010)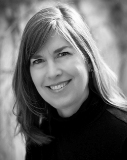 Karen Paul Holmes is a freelance business writer, poet, and writing workshop leader who splits her time between Atlanta and a beloved cottage in the Blue Ridge Mountains. Karen is the author of Untying the Knot (Aldrich Press 2014), which tells a story of loss and healing "with grace, humor, self-awareness and without a dollop of self-pity," says poet Thomas Lux. She enjoys classical music, theater (especially comedies), Ikebana, contra-dancing, ballroom, and spending time with her two Welsh Terriers and new "late life" beloved. Learn more about Karen at www.simplycommunicated.com or www.facebook.com/karenholmespoetry.
mvp:
That is a lovely poem!
Posted 10/04/2010 11:12 AM
MicaelaOlmos:
That's lovely. A lovely poem. Thank you
Posted 10/04/2010 07:48 AM
Buckner14:
And those fortunate enough to live in the Blue Ridge experience this glory every year!
Posted 10/03/2010 07:17 PM
marenomitchell:
Stark and lean, yet strongly evocative, "Autumn Story" is complete with a perfect metaphor. Thanks for posting Karen's poem. Maren O. Mitchell
Posted 10/03/2010 12:43 PM
Ginny C.:
Nice poem. I especially like its first and last lines. I am looking out across a lake at the trees on an island, just starting to turn gold and rusty red as I read this poem and write this response. The poem does a good job of capturing this seasonal view.
Posted 10/03/2010 10:48 AM