There you are in a folding chair
watching your daughter, who's six
climb the stairs to face the audience
on poetry night. Lovely and slender
she moves towards the mike
the room hushed;
parents whisper and sigh
at her missing front teeth
when she starts to read. Six lines
that's all it takes
and for one minute on a Tuesday night
your daughter reads her poem
and when she smiles at you from across the stage
all the tangled strings of your life
neatly fold like fingers into a contented lap
and everything makes perfect sense.
This poem first appeared in US 1 Worksheets (Vol 55, 2010).
Used here with the author's permission.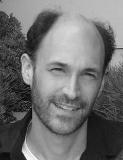 Eric Heller has been a teacher, technical writer, web designer, and Internet marketing specialist. His poems have appeared in US1 Worksheets and the Delaware Valley Poets anthology, Thatchwork. Eric is currently a marketing director for a technology company in New Jersey, where he lives with his family, including his wife and two girls, a sixteen-year-old cockatiel, a tough little hermit crab and, so he's told, the pending arrival of two guinea pigs. He blogs about poems and Internet marketing at www.eric-heller.net.
nancy_scott:
Congratulations. This poem gets even better on rereading.
Posted 10/12/2010 11:21 AM
dotief@comcast.net:
Wonderful use of simile! Wonderful imagery!
Posted 10/12/2010 08:21 AM
Buckner14:
Those final three lines--like an Amen!
Posted 10/12/2010 07:44 AM
Gary Busha:
Simple. Good. Clear. -GB
Posted 10/12/2010 04:24 AM