Five thirty p.m.
Grandpa hunches, on guard at the table. Grandma cocks her
loaded silver ladle, readies the first surprise shot at a delicate 
appetite. Beth Zurbuchen reports live from TV-9: This Just In. 
Couple caught forcing five small spoons of green bean soup down 
granddaughter's hostage throat! Neighbor Bob saves the day 
(details at ten)! 
The first bullet zings over my trembling left shoulder, plummets 
into the gaping grand canyon soup bowl, clatters like a rock 
in an early grave. Beth is gone. I am back. Bob waves as he drives 
away. Not even Wonder Woman can save me now. 

If I were old, I would know the sins of cream and pesticided 
produce. I could preach an organic low fat diet, commune my family 
with green tea and a cool spinach salad. But I am only ten, 
and nailed to this table til I suck down five small spoons 
of green bean soup. 

Hands shake as I pull the bucket spoon to lips that wouldn't part
for Moses, pray one last time for the crucifix to fall off the wall
and bonk grandma on the head. Jesus winks, and I know this is 
to be my hell on earth as the first mushy caterpillar wriggles over 
my tongue, builds a thicky cocoon in the pit of my stomach. 

Six p.m. 

Four small spoons of green bean soup remain.

I could go on about the horror of how green bean soup congeals as 
cream cools, how beans that soak too long will bloat to the top like 
dead bodies, how a stubborn girl who sits too long begins to shrink 
like Alice, grows back only when she downs four more spoons before 
the sun sets, before the grandparents begin to bite. 

I will spare you the final swallows. 

Five small green details at ten.

From Kamikaze Commotion (Parallel Press).
This poem first appeared in a broadside called Page 5.
Used here with the author's permission.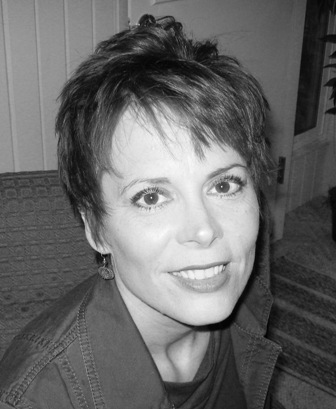 Cathryn Cofell is a Wisconsin poet who has made most of her limited fortune in the non-profit sector and is a sucker for a good cause, meaning she's easy prey for a needy arts, social justice or mental health organization (no phone calls, please). She has six chapbooks and a music/poetry CD to her name, including Kamikaze Commotion, a fitting descriptor for her poetic style, personality, and parenting prowess. You'll find her poetry in places like North American Review, NY Quarterly and Mead; learn more about her at www.cathryncofell.com.
Gary Busha:
Anyone forced to eat can relate to this humorous poem. Glad to see this one published. GB
Posted 10/13/2010 06:00 AM