It could have been the bassoon that started
them howling, that set off the tremulous
hound dirge riding the evening sky.
They could have been mourning the coming
of autumn, the chill in the air, the loss of the moon.
Whatever the source, it made us remember
when the baying of dogs sang counterpoint
to despair. Maybe the dogs somehow also
remembered the night Jackie's Ford Falcon
swerved wild on a curve, ramming
into a stone wall planted with ivy, Jackie
somehow surviving, though wall and windshield
did not. How sirens ripped through the night then!
How the dogs howled, urging police cars
and ambulance onward, and how we still hear it.

But just then Mary Pat started again from the top
her aching rendition of "You Light Up My Life,"
transcribed by her teacher to bass clef for bassoon.
We winced. No wonder her mother had sent her
outside to practice, no wonder the hounds' song
filled the night. It could only have been the bassoon.
Copyright 2010 by Pat Hale.
Used with the author's permission.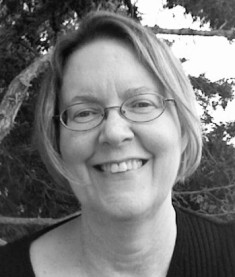 Pat Hale has written poetry since she was a little girl and believes it has supernatural powers, not unlike those that make it possible for Superman to fly and Lassie to hear Timmy, no matter how deeply he falls into the well. Pat's award-winning work has appeared in many journals and she facilitates a writing group modeled on the Amherst Writers and Artists method. A recent corporate layoff has provided her with the opportunity to spend more time writing and watching the Canada geese that frequent the field across from her house in West Hartford, Connecticut.
karenpaulholmes:
Great poem. Reminds me a little of Billy Collins's poem about Beethoven writing a part for barking dog.
Posted 10/14/2010 08:29 PM
Ginny C.:
Love it!
Posted 10/14/2010 05:14 PM
Buckner14:
This is absolutely delightful! "the baying of dogs sang counterpoint to despair"--a great line!
Posted 10/14/2010 03:12 PM