Such finesse
must come from long practice.
Is it applause you want?
I want more than hate,
more than a gnarled
grudge like a dead stump
rooted in my chest.

I want my own woods,
the scurry of the unseen,
the eyes of deer.
I want stillness enough to hear
my own heart working, and that moment
each ochre, each crimson leaf
is torn from its hold.


© by Andrea Potos. 
Used with the author's permission.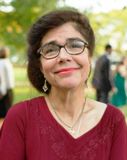 Andrea Potos is the author of five books of poetry, including the newly released We Lit the Lamps Ourselves (Salmon Poetry). A self-professed "book addict," her award-winning work often focuses on women and family. Her Greek grandparents and their spirit have been an abiding presence and inspiration throughout her life and poetry. Andrea lives in Madison, Wisconsin, with her husband and daughter.
There are no comments for this poem yet.