Purple asters and golden mums
Seemed touched by warmth
In a landscape fast cooling
With the sun's dimming heat
While
Trees burst forth
In riotous color
A gaudy display of
Oranges, yellows, browns and reds
That delights the eyes
And hints at other
Simple pleasures
Like crisp, red apples
Golden pumpkins
And warm, bright fires
Snug at home
At night
White frost dusts the sleeping landscape
Freezing each blade of grass
And leaf and shrub
In rigid forms
That only come alive
With the gentle heat of day
And then
The rains begin
Gently at first
Then in downpours so fierce and steady
They mute the sun's
Already fading light
And drain the showy colors
From the now dormant trees
Painting the world
In shades of gray
Still
In their wake
They leave behind
Not only drab brown leaves
And frosted earth
But the beautiful
Colorful memories
Of a fading fall
For us to treasure
When winter's grip takes hold
From Telltale Signs (Bumbershoot, Inc. Press). 
© 2000 Miriam Ruff. Used with the author's permission.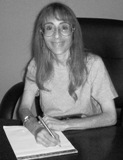 Miriam Ruff is a writer, editor, and teacher. Though she received her degree in Zoology, she quickly moved on to other pursuits; most notably, she spent several years in the film industry, eventually moving up to writing and producing short screenplays. She has also written and produced several full-cast audio dramas, which have played nationally on public radio. While she tackles all forms of writing, from corporate newsletters to educational material and newspaper articles, Miriam finds that writing short stories and poetry provide the most satisfying outlets for her imagination, as well as the most direct, and rewarding, connection with the reader. Author of three volumes of poetry, as well as a collection of short stories, her work has appeared in the Journal of Humanistic Psychology as well as in assorted newsletters, websites, and anthologies. Miriam lives in the Washington, D.C. area: learn more about her at www.bumbershootwriting.com.
vmidge@hotmail.com:
Very beautiful visual images of fall's transition and the feelings/emotions it evokes. I liked this very much but, in my humble opinion, could have been improved by mention of the other sensory delights of Autumn. Midge Van Etten
Posted 11/02/2010 04:39 AM