Through a windswept field, champagne powder blows.
I walk on sculptured dunes toward the vacant road
and pause to pick up a maple seed
still attached to its wing.

There are no maples for miles.
Maybe it was dropped by a sparrow flying home.

Using the heel of my boot as a hoe,
I scrape away a crust of ice
and plant this seed under a thin layer of soil,
so that come spring
a tree might break from the ground . . .

rising into the air out of which it fell,
and on another night such as this
will hold the moonlight
in the snow on its branches.
This poem first appeared in Widner Review, and was subsequently published
in Deer Drink the Moon: Poems of Oregon (Ooligan Press, Portland State University)
and Tree Magic (Sunshine Press Publications).
Used here with the author's permission.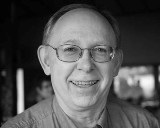 Mark Thalman lives in Forest Grove, Oregon, where he has taught 7th grade English for almost thirty years.  His poetry has been widely published in small presses, college reviews, anthologies, and e-zines for the last three decades. His book, Catching the Limit, was published by Bedbug Press - Fairweather Books as part of their Northwest Poetry Series. Mark has served as a Poet-in-the-Schools for the Oregon Arts Commission, Assistant Poetry Editor for the Northwest Review, and board member of the Portland Poetry Festival. He is also an artist who enjoys painting wildlife scenes with acrylics. His two Golden Retrievers, pictured above, are named Agatha Christie and Sherlock Holmes. To learn more about Mark, visit www.markthalman.com. To purchase Catching the Limit, click on the book cover and contact Mark via his email address.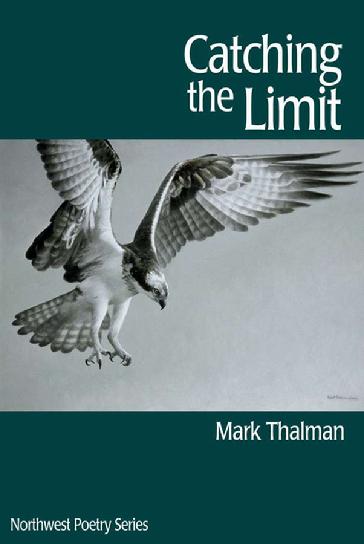 Ginny C.:
Would NOT have wanted to miss this one.
Posted 11/01/2010 04:43 PM
dotief@comcast.net:
As a Floridian, I had at first thought this poet on a beach. As I drew toward the end, I realized my mistake. Either setting makes for a wonderful poem, though.
Posted 11/01/2010 08:36 AM
Nabby Dog:
I admire this poem for its vivid details and also because it shows that being alone in nature need not be lonely. Above all, I love the feeling of hope that the final stanza suggests. It's a wonderful poem to read as we approach winter.
Posted 11/01/2010 07:43 AM