The moon sways in the black water
Of my neighbor's pond,
And in the sky the actual moon,

Wolf moon, dominates the night.
It is the cue for my father
Who has stood on the ridge the last evenings

And howled, to begin again. I know
It is him: midnights in our house
He'd stand at the living room window

Gazing at the moon
While ghostly curls from his cigarette
Converged around his blue

Striped pajamas, his head
With its muss of black hair, his hand
Like a separate entity holding

The white cylinder with its dime-sized
Grainy red glow
On the end.

I see his dark shape outlined against the horizon,
His head tilted back, his jaws open.
I think he is recalling me

Or some glimmer of what
It was like to be human
Which for him, now,

Can only consist
Of broken links
And vague memories.


Copyright by Sherry Hughes Beasley.
Used with the author's permission.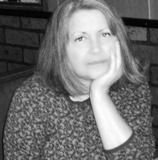 Sherry Beasley's work has appeared in numerous literary journals. She is the recipient of eleven poetry awards, including the Edgar Allen Poe Memorial Award, and is the author of three collections of poetry. A jeweler, perfumer, and soap-maker in her limited spare time, she lives in southwest Virginia in a house she and her husband designed. They have two adult sons and three dogs.

dotief@comcast.net:
Very nice! Many of us feel the signs that connect us to those who have gone before.
Posted 10/31/2010 08:48 AM